Like other countries of the world, Pakistan is celebrating Women's Day too. It is a day when women are recognized without any discriminations. Due to the labor movements in North America and Europe in the 20th century, International Women's Day emerged to acknowledge the rights of women across the world.
This day not only brings lovely moments of joy and happiness but also has some really good deals for women who love to shop and eat (well, who doesn't???)
Here, we have jotted down the best deals of the town on Women's Day so that you could enjoy every moment of the day without being worried about anything.
1. Lal Qila Restaurant, Karachi
Lal Qila always makes the day with their very special deals! On this auspicious day, how could they forget to offer any deal? Simply, wear pink and get your buddy with you and that's it. They have a really awesome surprise for you!
2. TOTAL PARCO
Happy #WomensDay to all the ladies out there! We've got something special planned for you today. Visit our pumps* to enjoy FREE fuel and chocolates. Tag your BFFs! #TOTALPARCO Terms & Conditions apply:http://bit.ly/2oUZwhS

Posted by TOTAL PARCO Pakistan on Thursday, March 8, 2018
So ladies, go and get some free fuel along with chocolates from limited oil stations of TOTAL Parco.
3. Bam-Bou
Enjoy the freedom to eat your favorite Chinese food with 30% off on the entire meal at Bam-Bou.
4. Berlin Doner & Gyro
Soothe your sweet tooth at Berlin Doner & Gyro. Take the opportunity to enjoy their complimentary Tres Leches Cake! Yummyyy!
5. The Valley
Recieve the tribute on women's day from The Valley and enjoy 15% discount on their meal! Wow!
6. Dialogue
Have some amazing food at Dialogue with your clan and enjoy 20% on the whole meal.
7. Revlon in Pakistan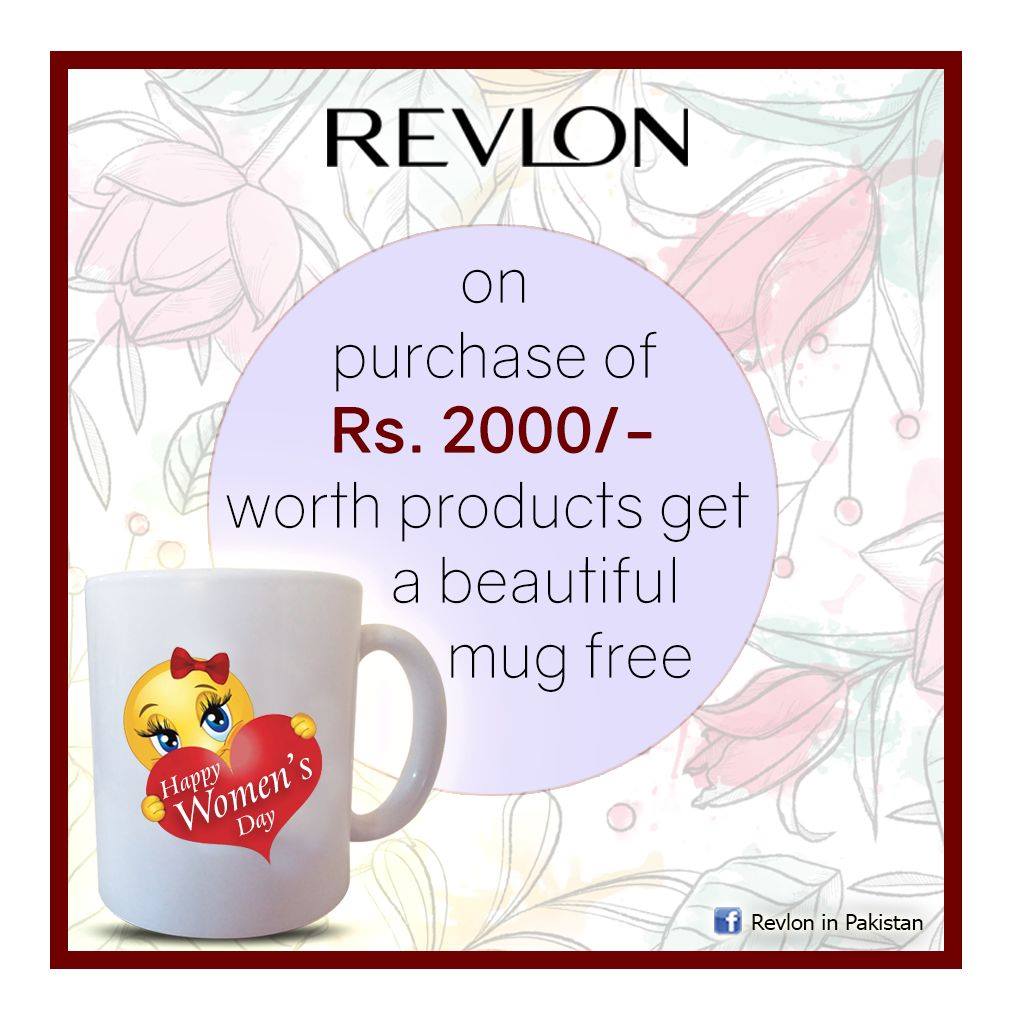 With spending Rs. 2000 only, get the chance to win a beautiful mug from Revlon Pakistan.
8. Dolmen Mall
This Women's Day Dolmen wishes to give you more reasons to celebrate "YOU". Head to your favourite mall and avail these wonderful sales.#YouGotThePower #DolmenMall #WomensDay

Posted by Dolmen Mall on Thursday, March 8, 2018
Last but not the least, don't forget to visit Dolmen Mall. Some wonderful deals are waiting for you!
So ladies, take this day as an opportunity for your "self" whom we neglect in our busy schedules of daily life. These little things might be expensive, but they definitely would give you pleasure and peace! Happy Women's Day!
Note: Terms & conditions apply to some deals.