Yasir Hussain was recently in hot waters when he made an inappropriate remark about transgenders. Rightfully so, it was distasteful and bad humor that cannot be taken as a joke that Yasir Hussain meant it as. He has a record of making controversial and improper statements, like the one he made on child harm.
Yasir Hussain is under the radar yet again and this time he decided to head-butt with Janaan star Hania Aamir. She recently opened up about her struggles with her acne and anxiety in a beautiful post.
She Shared Her Journey About Her Insecurities And Left A Great Message For Everyone
Yasir Hussain Made An Insensitive Remark About Hania On His Insta Q&A Session With Fans
He was asked to share his thoughts on Hania Aamir to which he responded, 'Danedaar' and tagged her too.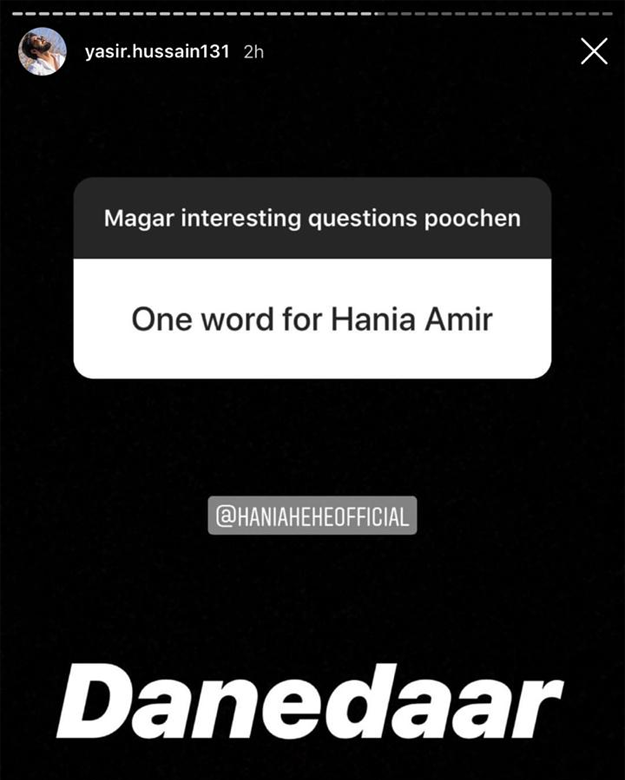 Hania's Response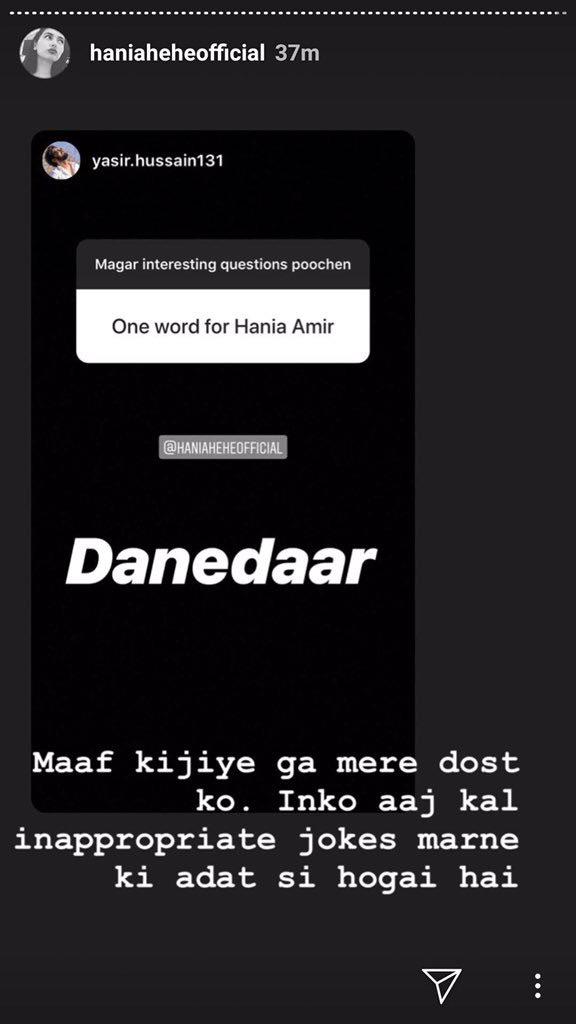 Although it looks lighthearted fun between two friends, Hania's response seemed off and gave off the vibes that she wasn't that pleased with his rude comment.
"Maaf kijiyega mere dost ko. Inko aaj kal inappropriate jokes marne ki adat si hogai hai,"
Translation: "Forgive my friend. He has become habitual in making inappropriate jokes"
Shots fired! Or so we thought as it clearly looks like a message here from Hania. However, Yasir didn't quite catch on to the sarcastic undertones and replied back.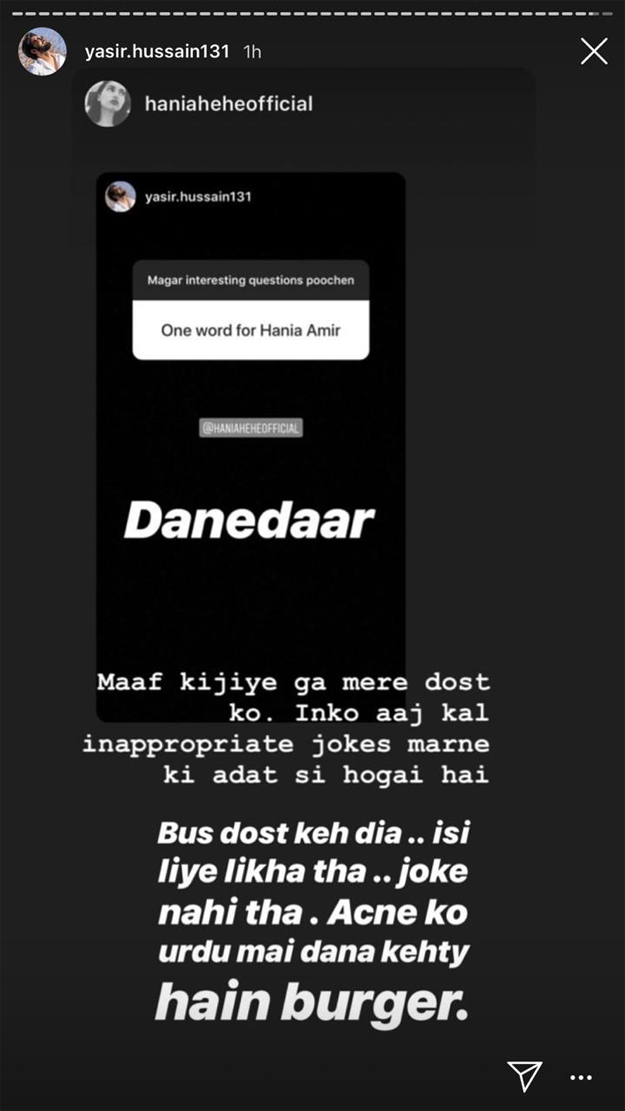 "Bus dost keh dia, isi liye likha tha. Joke nahi tha, Acne ko Urdu me dana kehty hain burger"
Translation: "I said that since you called me a friend. In Urdu you call Acne 'dana', burger!"
After this Hania probably had it since she wrote a post sharing her thoughts on insensitivity and not being mindful. Whoops!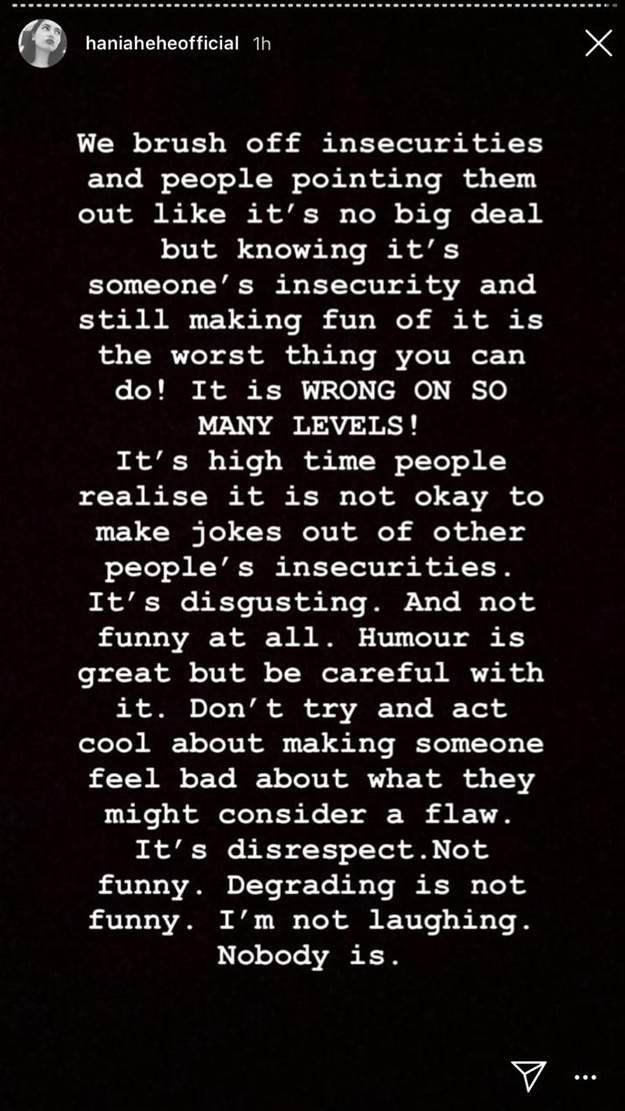 "We brush off insecurities and people pointing them out like it's no big deal but knowing it's someone's insecurity and still making fun of it is the worst thing you can do, It is wrong on so many levels! It's high time people realise it is not okay to make jokes out of other people's insecurities. It's disgusting and not funny at all. Humour is great but be careful with it. Don't try and act cool about making someone feel bad about what they might consider a flaw. It's disrespectful. Not funny. Degrading is not funny. I'm not laughing. Nobody is."
Twitter Agrees With Hania's Heartfelt Message And Shared Their Two Cents
Stop making fun of people's physical appearance. You don't know half the battle they have to go through with themselves because of it, let alone dealing with your trash opinions. Be better than this. #HaniaAamir #YasirHussain

— Huma ?? (@hitbyreality) May 14, 2019
OOPS!
YASIR HUSSAIN is such a trash piece of shit, what a moron. After transgender, now mocking Hania Amir on her acne. What a cunt low life person he is! #YasirHussain

— Stark. (@osamacaprii) May 13, 2019
Disappointing.
#YasirHussain with hit trashy humor strikes again. This time cracking an insensitive joke on #HaniaAamir. This guy will never learn.

— Regina Phalange (@Ajeebloghain) May 13, 2019
In the words of Hania, it's high time we grow up and realize that although making fun of someone's appearance whether they are your closest of friends seems like fun to you but the effect of your unpleasant joke must have been bigger and worse. Celebrities who have such a huge fan base and can be called influencers should be mindful of what they say and do.