Internet trolls just need a reason and when it is pertaining to PDA (Public Display of Affection) then expect the haw-haye brigade to come in fast with their verdicts. Dilated pupils, hearts beating fast and fingers typing faster – these desi trolls will lash out on your for something as little as holding the hands of your own spouse in public. HOW. DARE. YOU.
YouTuber Zaid Ali received some shaming-comments on posting a loving picture with wife Yumna.
I mean we are speaking an outrage on mild PDA, Zaid clearly not having a shred of decency, gave a loving peck on the cheek!
But it is understandable since it is December, the official month of romance and the official month of mourning for the ones that are single. Zaid, however, had a pleasant year with a few bumps in the middle. For example, the pregnancy prank Froggy and her husband pulled off, which really agitated Zaid, being a quality content producer. Apart from that, he has been enjoying the blessings of a happy marriage with Yumna.
The comments received under this are a mix of adoration and disgust; but one takes the cake.
Here's someone who thinks this is 18+ content. Sarcasm? 
The conversation that happens underneath is nothing short of a comedy bit. See for yourself.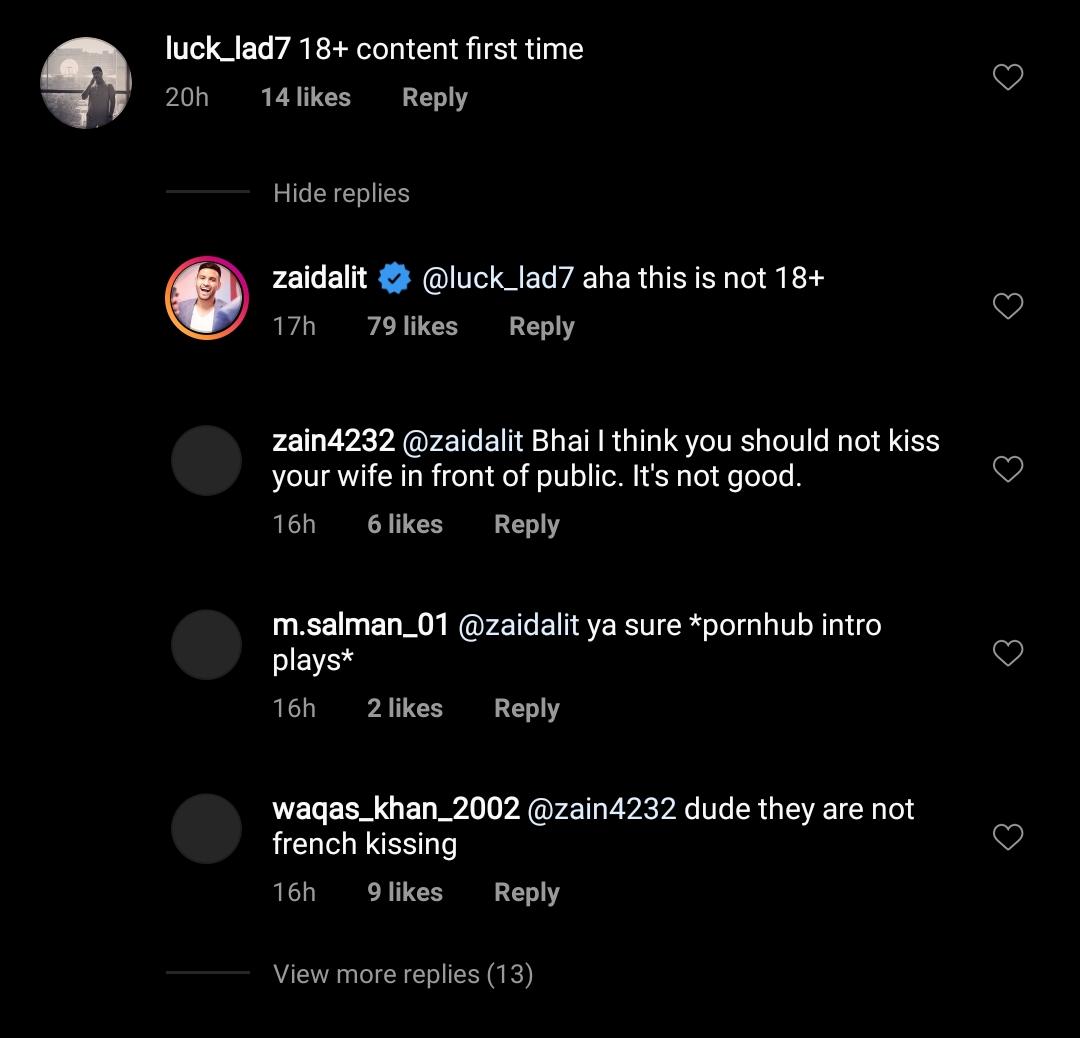 A naive fan considers THIS to be adult content? On second thought this does look like he meant it as sarcasm or a joke. But, Zaid knowing the ins and outs of social media didn't leave the chance to shut him down.
However, the comment following Zaid's reply is hilarious. "Don't kiss wife in public" followed by "adult website reference" and ending with a frustrated comment of "it's not French, so relax"!
Social media is an entertaining place for sure and trolls, as much as play a huge part in contributing to this worthy cause; oftentimes, they are the reason for extreme stupidity, hatred, and extremities. In Zaid Ali's case, the lad is more than accustomed to the trolling, hating and various other negative connotations that come along with being an "Internet Celebrity".
Zaid Ali's journey!
He has come a long way from creating videos somewhat similar to those of another YouTube sensation Lilly Singh. However, entirely of his own creativity and originality. From being a humble kid to now a responsible husband. He is one of the very few YouTubers of Pakistani origin, that managed to achieve big milestones, including gifting his father his dream car.
He has taken everyone through his life journey and now, we get to see him with his wife living a different chapter. We wish these cuties the best of luck and a happy new year!
Have anything to add? Comment below!