Lots of children, teenagers, and even adults experience acne. They find it tough to manage it. Why they have acne? This notion may seem hard to believe in a world where every photo is airbrushed.
Photos of people with flawless skin may make you feel insecure. It sure does right. But don't worry. You're not alone in the acne journey. Actor Alizeh Shah is also on the long list and has a word for you!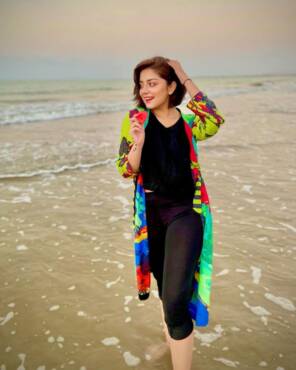 Taking to Instagram, the Ehd-e-Wafa star spoke out about her insecurity-inducing struggle with acne.
"Here I am putting my biggest insecurity on display," Shah began, confessing, "Yes, I've been struggling with acne for quite a long time."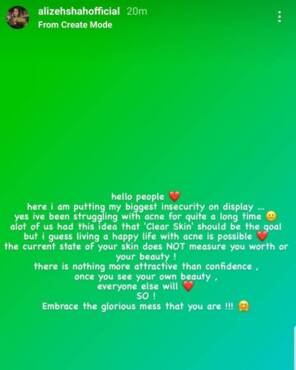 "A lot of us have this idea that 'clear skin' should be the goal," she noted, though then confessing one does not need perfect skin to be happy.
'The current state of your skin does not measure your worth or your beauty!" she said.
Shah also followed this up with a video zooming into her face, flaunting her acne marks, confidently.
We know the struggle is real! Earlier, Hania Amir also opened up about struggling with acne. The actress called her struggle with mild acne in the past couple of months "quite a painful one," adding that she had "nights and days of crying, feeling insecure, anxiety".
After going through a rough phase for months, she went to a different dermatologist and her skin got better but it made her wonder.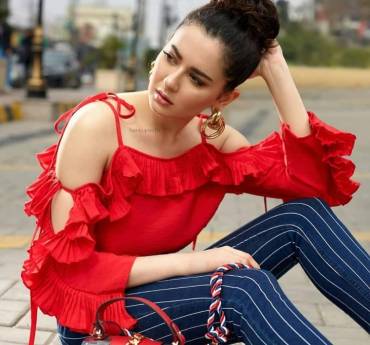 "Why is my skin defining me? Who has made these beauty standards that we always feel the need to match? The society? Clear skin is beauty?"
However, as always Yasir Hussain marred the much-needed conversation by making fun of Amir. When asked to describe Hania in one word during an #AMA session on Instagram last night, he chose to respond with "Daanedar" (or pockmarked). How rude!
What do you think of this story? Let us know in the comments section below.