Ahad Raza Mir's exceptional acting skills and looks have bombarded the social media and his fans are loving it! He became the limelight when his drama 'Yaqeen Ka Safar' made it to screens, and the girls totally got obsessed with his character as Dr. Asfandyar in it.
If we talk about his fans, many have reached out to him hoping he would reply back to them or actually meet him. And guess what? He actually DID reply to a few! Lucky girls! Remember that story where he wrote a letter to his fan? Crazy, right? Read the story here. 
Having a little faith, another fan of Ahad Raza Mir has made an attempt on reaching out to him! She wrote a cute Facebook/Insta post on his birthday about two weeks ago to reach out to him by appreciating his amazing talent and humble nature. Sharing her thoughts with Parhlo, she said that she adored his work immensely and would support him throughout his career and encouraged others to do the same.
It seems like for Aminah, it was less about the looks and more about his great talent and personality. Here's what she wrote:
I've liked the work of celebrities and followed them in whatever project they ventured on but NEVER HAVE I EVER been so excited for a person's birthdayyy who's a fresh face and not just that, he's blessed with amazing acting skills, very down to earth and humble nature, and MashaAllah looks so good they can melt hearts ? I'm pretty sure I'm going to follow this young man whatever project he takes up, and keep supporting his career. Those of you who don't know him should follow him too and I can guarantee you won't be disappointed by his work 🙂
Happy birthday Ahad Raza Mir! You already stand out, and I'm sure you'll be brilliant in the future too 🙂
P.S. the right picture finally serves purpose to Strings' uski zulfen khulin to laga yun mujhe ghata chaye chaye chaye chaye chaye chaye chaye chaye ?
And, guess what? Ahad Raza Mir replied to her as well!!!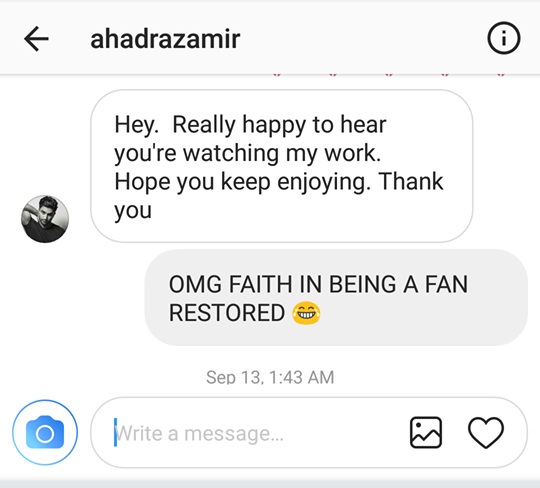 The expression on Aminah's face was priceless!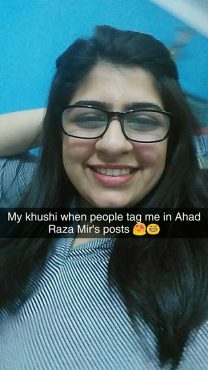 Aminah couldn't contain her excitement and it got us excited, too!
But wait… Ahad's reply isn't enough. Aminah has one more wish that is to meet this heartthrob!
Well, the person who replied to her was a surprise as well… BILAL KHAN!!!

Any other leads?? Anyone who can make her dreams come true?
Ahad sure knows how to keep his fans hooked! We wonder how Aminah would react if she actually meets him. All we can say is, Best of luck, Aminah… We really hope she gets to meet him! 
P.S. Ahad Raza Mir, let's make this happen.