It was November 2020, when the gorgeous Anam Malik decided to bid farewell to the glamorous world of fashion and quit modeling. She has now requested media outlets and bloggers to stop sharing her old modeling pictures as she was not part of the profession anymore.
Sharing a post on her Instagram story, Malik said, "A humble request to all media pages and bloggers, please stop posting my modeling pictures. Alhamdulillah have come out of this race."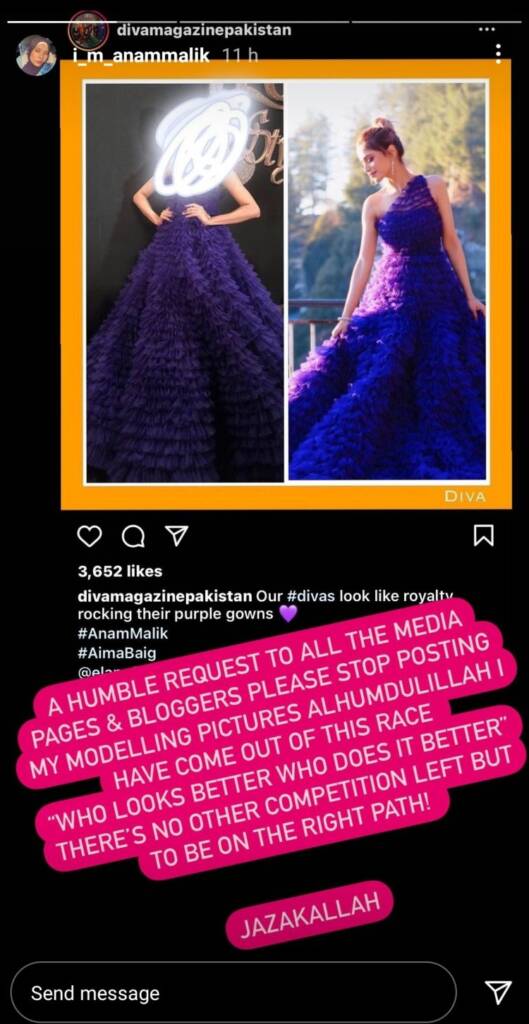 "Who looks better, who does is better," she continued. "There's no other competition left but to be on the right path."
Malik started her modeling career in 2012. She has worked with high-end fashion brands and designers. She also made an appearance in a Pakistani movie Maya in 2015.
Last year, the former model embraced the hijab and posted photos of herself with her head covered. The former model has also deleted all her modeling photos from her social media except for the ones with Zara Abid.
Malik was one of the late model's best friends. Zara was on the ill-fated Pakistan International Airlines (PIA) flight that crashed in Karachi on May 22, 2020.
Many Pakistani actors have recently quit showbiz in order to pursue their journey towards Islam. The list also includes Hamza Ali Abbasi, Feroze Khan, and many more names. Khan, however, is now making a come back.
It is certainly not easy to leave everything behind at the peak of your career. May Allah help Malik and guide her on this journey, and keep her imaan strong, always! Meanwhile, Malik's Instagram bio states, "Aur Allah jissay chahay hidayat deta hai [And Allah instructs whomever He wishes]."
What do you think of this story? Let us know in the comments section below.