Khan's career has advanced significantly, and she now lands significant roles in noteworthy films. She has become increasingly well-known by updating her fans about her family and children and sharing her daily adventures and family moments with her Instagram family.
The star revealed her biggest beauty secret during an interview. People did not appear to agree with what she disclosed, though. The beloved actor Ayeza Khan is now the most-followed celebrity in Pakistan on Instagram, with over 11 million followers.
Actress Took Instagram Account to Share Message
Ayeza Khan took to her Instagram account and shared a cryptic message that sparked controversy. As she shared the story of her upcoming project, 'Jaan-e-Jahan', the actress hinted that she would leave the showbiz industry.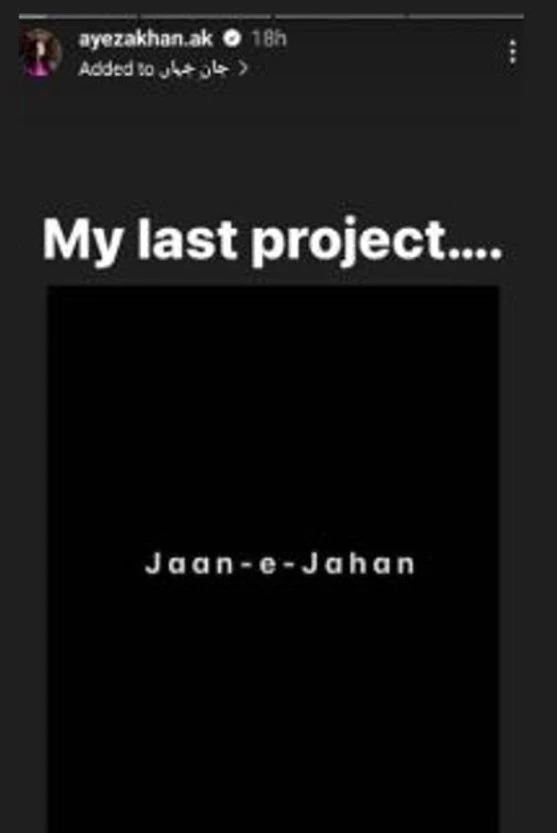 Her fans were intrigued by this story. There is a lot of confusion about what she means by that. Maybe she's teasing her upcoming project or bidding farewell to one that's already underway.
A heartwarming caption accompanied the lady's post, in which she thanked the entire team of 'Jaan-e-Jahan' for making her trip worthwhile.
Her exceptional acting abilities and impressive work have made Ayeza Khan a beloved figure in Pakistani showbiz. She has taken her fans by surprise with her recent post, leaving them eager for more information.
Recently, Ayeza Khan was severely criticized for her statement regarding the Palestine-Israel conflict. Ayeza Khan faced harsh criticism recently for a speech she made about the conflict between Israel and Palestine.
Her husband, Danish Taimoor, is admired for his grace, but Khan is loved by the public for her amazing acting abilities and lovely nature. They go together like a dream. Rayan Taimoor and Hoorain Taimoor are the couple's two incredibly cute kids. However, there was a rumor that the couple had adopted their son.