In the entertainment industry couple's separation is very common, but if the cause of the separation turns out to be domestic violence then the male culprit has to face a lot of consequences and it's the dark mare for him.
In the past few days, since Syeda Aliza Sultan's domestic violence images have gone viral Feroze Khan's life turned upside down and even his co-stars have also demanded his banishment from the industry.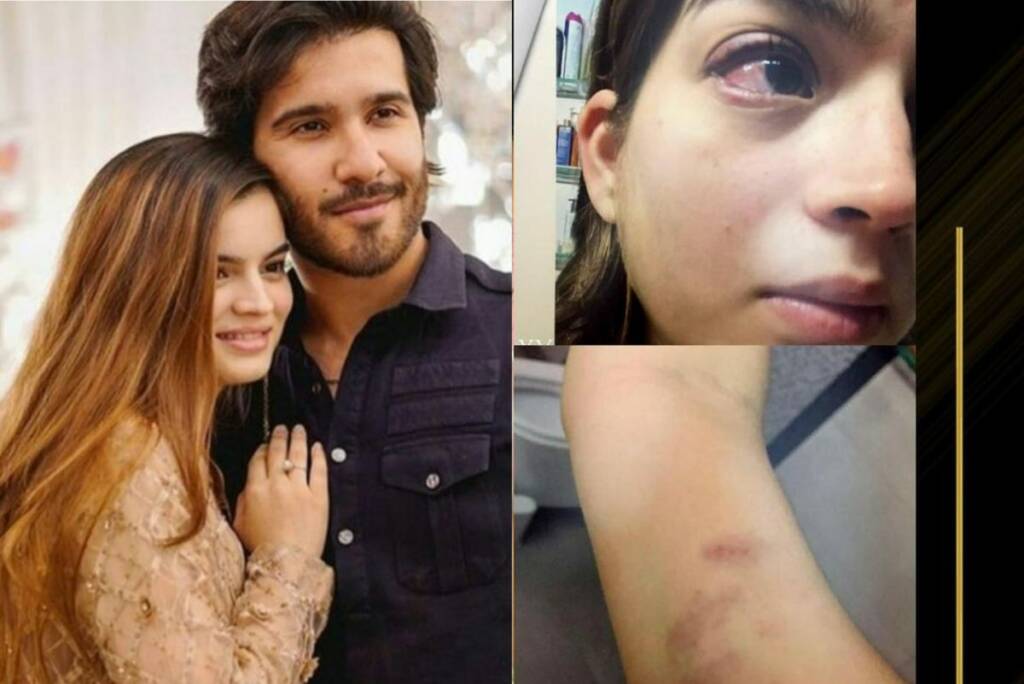 It's the nightmare for Feroze Khan because domestic violence of any kind is not bearable and it could damage his whole career or say.
It's worth checking out the female celebrity's reactions to Aliza's violent image and they extend their immense support to her.
The incident created a big impact, and some of Feroze's co-stars refused to work with him and left the project.
Females Artists Supports Syeda Aliza Sultan:
On Tuesday, Syeda Aliza Sultan submitted documents and her domestic violence abuse images in the court which also made it to the internet. Soon it spread all over social media, Twitter filled with storms of tweets from celebrities and netizens.
A strong number of female artists joined hands together to showcase their support to Aliza and some of them cut themselves off from projects in which Feroze Khan was involved.
Just like Iqra Aziz, known for his stand for women's rights and bravery critics when it comes to domestic violence.
Aziz shared a note on Instagram that included hashtags #saynotoviolence and #supportwomen in her caption. "'To stay silent in the face of injustice is to side with the oppressor.'
In lieu of the situation regarding domestic violence, I have made the difficult but necessary decision to retract my project with Feroze Khan as a sign of support for victims of domestic abuse. I support Aliza Sultan for seeking justice, more strength, and power for you," she wrote.
'In A State of Shock' – Ushna Shah
Some of Feroze Khan's fellow actresses couldn't believe it and took time to process the whole thing just like Ushan Shah.
Actor Ushna Shah, who is Feroze's Habs co-star, expressed her "shock" at the news. Taking to Twitter, the Baaghi star extended her support for Aliza. She said, "I am still processing this and in a state of shock. Nothing can justify violence against women."
Dania Enwer also shared her unpleasant experience with Feroze on the sets of Habs.
In an Instagram story, she noted, "I never knew him before this project, but while working he made unpleasant and derogatory remarks about women. It was not easy to cope with, and my last day of shooting with him was the most painful."
Dania concluded her statement by voicing her support for Aliza and her family. She said, "It is not easy to bring your trauma in front of the public."
Mira Sethi also met Aliza's family and all the allegations of domestic abuse that the latter made. I met Aliza Sultan and her family. The allegations are very serious, and people should take them seriously. Her father: "Mujhe iss baat ki hairat hai ke uss ne itni body banaai gym mein. Laikin kis leye? Meri beti ko maarne ke leye?"
Soon the reactions spread out all over the social media platforms like a forest on fire, Feroze Khan later released a series of statements in which he denied all the abusive allegations and claimed that he doesn't have any friends in the industry.
What do you think of the story? Tell us in the comments section below.