The journey of a stranger transforming into a celebrity starts from the department of limelight where you put your skills on display and your life too. Giving people a little share of your precious life could always earn a celebrity the status that they desire. Although, this little access to their private lives soon turn into an invasion by people who now proudly do it by claiming that anyone on media is a "public figure".
THEY ARE ALSO NORMAL PEOPLE WHICH NEED PRIVACY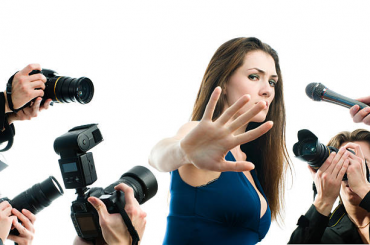 Except for the paparazzi, the power of media has become so strong that they keep a close eye on the activities of every star and they even count how many times the celebrities blink and then report everything despite caring if there is any reality attached to it or not.
Thus, the thin line between a public figure and public property has vanished, every celebrity is now scanned by the public eye which makes whatever stories adding some weird spice and putting it up in the market to be sold fresh and hot. A recent victim of this issue is Iffat Umar, our former Pakistani model and a phenomenal actress.
THEY ARE NOT "PUBLIC PROPERTIES"
This issue might not seem to be causing any danger to the life of any star, but for Iffat, it almost cost her, her life. Some days back, the actress uploaded a video on her official Facebook page in which she mentioned that she was almost going to commit a suicide because of a call that she received from some journalist which was later taken over by some female that she refused to name.
The female had some grudges against her due to which she talked rubbish about her that was heard by both her husband and daughter as the phone was on speaker. This series of torment continued for three days, causing a nervous breakdown. Throughout the video, Iffat demanded justice from the Supreme Court of Pakistan to make laws for the privacy of every celebrities stuff. The lack of laws makes it easier for people to get away with this crime.
PRIVACY IS THE RIGHT OF EVERY CITIZEN
?#isupportiffat #defamationlawsinpakistan #asmajehangir #iwantjusticeinpakistan #ialsohavehonour #raufklasra

Posted by Iffat Umar on Wednesday, 31 January 2018
This effort by the strong actress proved that she has come forward with another time to address the issue faced by many in the media world since ages. Being paid the money for appearing on the screen doesn't mean that they are allowing everyone to now secretly capture their personal lives as well. It's their work that they put on the forms for the world, not their lives so it should be taken a great care of.
HOPE SHE GETS JUSTICE SOON
People's faith being restored in the judiciary is the best part, as they can now get justice for any problem that they are or have faced in the past. If you liked this article then like, share and comment down below to give us your feedback.