The evolution of South-Asian weddings is one of the most beautiful things that have changed with the passage of time with new trends bidding farewell to the older ones. Back then, the brides were shy and coy, covered in a ghungat but in today's time, they are bold and beautiful who don't consider something new and fun a challenge. One of these stunning Indian brides rocked her entry by dancing elegantly on the Pakistani song "Afreen Afreen" by Momina Mustehsan.
A SWEET MOMENT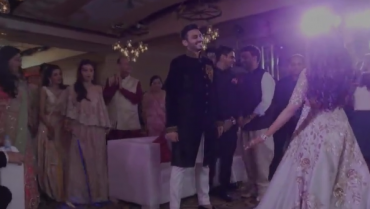 Contrary to most brides who still sit patiently for hours while getting their makeup done, she chooses to dance with her friends. The video features a bride entering the wedding banquet along with six of her friends who accompanied her to the stage and then stood there till the performance had ended. The bride kept singing and moving gracefully to the beat of the song. Her simple steps made it seem so easy plus it also showed her immense love towards her husband who couldn't blink his eye to not miss even a step of his stunning wife-to-be;  for the entire life. Both the families kept on encouraging her throughout the special performance, showing their love for the beautiful lady on the stage.
A BEAUTIFUL PERFORMANCE
The support by the audience was also commendable who loved every bit of it as soon as the video hit the internet. If you liked this article then like, share and comment down below to give us your feedback.