Iqra Aziz and Yasir Hussain are finally tying the knot in a few days' time. The Pakistani showbiz industry's IT couple was seen taking many vacations abroad in 2019 after their relationship was made public. Now, as the wedding bells near, Iqra and Yasir released their unique wedding invite; something that wasn't expected but makes perfect sense.
Iqra Aziz and Yasir Hussain's witty wedding card with beautiful illustration.
The hilarious descriptions with a smacking punchline for the guests at the end? A REALIST wedding invite. The couple channeled their fun personalities into their wedding cards, indeed. "Keepin' it real!" Personified.
Wedding dates and honeymoon destination preferences.
Yasir speaking to a local publication confirmed the dates of the wedding including dishing out the details on the affair to be intimate; he said, "The wedding will be an intimate affair with only friends and family in attendance. The festivities will begin from December 25 lasting till December 28, 2019"
As for the honeymoon, Yasir said, "We have not decided any honeymoon destination, however, we are shortlisting countries with more beaches,"
Yasir and Iqra in a nutshell.
For this pair, 2019 was definitely a marathon of big moments. From the grand proposal to stunning vacation pictures to winning awards and well, getting into feuds with other celebrities; it is finally coming to an end with a beautiful beginning. However, not much has revealed regarding the ceremonies and although it will be among the closest of friends and family only; it makes us wonder whether the affair itself will be grand or small, in terms of decor, attires and more.
Them being cute. 
Although Iqra Aziz and Yasir Hussain get quite some flak on their relationship, with Yasir being labeled as Iqra's "dad"; the pair looks wholesome and complete. At the end of the day, stars who share limelight receive their fair share of criticism, on their professional and personal lives. But, this couple is in a world of their own and after Aineeb, Naimal and Hamza, and Zainab Abbas – Iqra and Yasir are set to take the plunge.
It seems like a long time coming since we have been updated about so much of their lives. But, come to think of it, it wasn't long since we heard them openly declare their love for each other. The cheesy, cringy-at-times and so-much-in-love celebrity pair will look like a feast donned in Shaadi clothes. How do we know? Their regal shoot is a testament to this fact.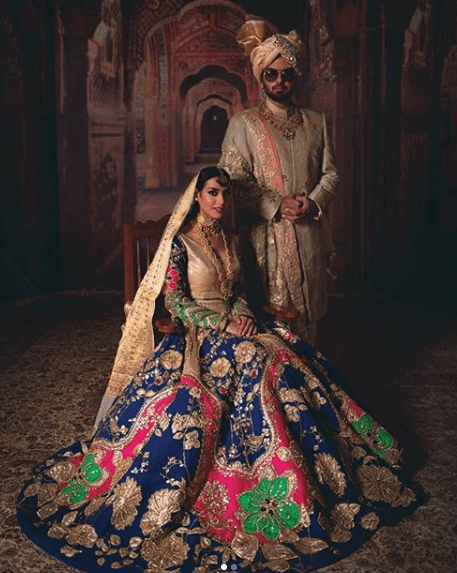 The wedding card might be the biggest clue to the wedding being simple in all aspects. Since Hamza and Naimal did set the standards of bringing back the integrity of simpler and smaller weddings; Iqra and Yasir could follow after. They are unpredictable and this makes us look forward to the coming big day.
Are you excited for the wedding? Let us know in the comment section below!