The Pakistani showbiz industry is witnessing 'Meray Paas Tum Ho's' impressive hike of popularity. The show isn't just the favorite of Pakistanis but is a global hit; even in India. At this moment, the drama serial is at its climax with an intense plot. The intensity was brought by introducing the much-awaited character of Shehwar's wife, played by the legendary Savera Nadeem.
Savera Nadeem's power-packed performance in Meray Paas Tum Ho sent every fan to the edge of their seat!
Savera being a professional doesn't play any games when it comes to deliverance. Her entrance was soon met with her slapping Mehwish. Two things took everyone by surprise; Savera being the wife everyone was guessing and the slap she extended followed by some powerful dialogues. Savera Nadeem on the show Rewind With Samina Peerzada revealed the slap to be REAL. Ouch! That must've hurt, Ayeza Khan. Hopefully, it was one take only.
Rewind with Parhlo. (No pun intended)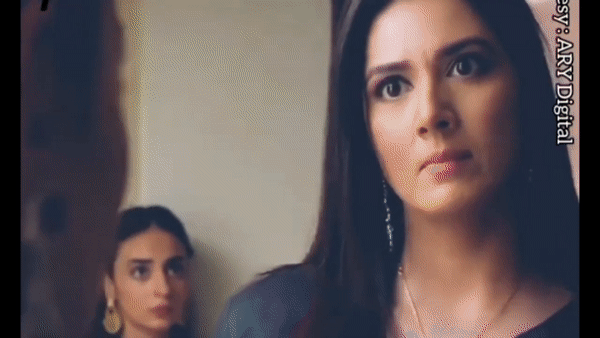 Now that she graced the sets of Meray Paas Tum Ho as the mystery wife Mehwish once spoke about to her friend; we can all relax and talk about the next big thing after the 'slap scene'. Dewan Sahab who until now, was a silent character, in the latest episode, shined. But, it is always the silent ones to watch out for, right? The story is unfolding gloriously with impressive punchlines that are delivered to perfection.
However, one celebrity has spoken highly and openly of Savera's acting. She seems to be a fan of the show as well.
Meera reveals herself to be a fan of Savera Nadeem's performance in the show!
Her caption, unique like herself, read, "My favorite my favorite character #marypasstumho # brilliant actress and amazing performance and the characterization and the dialogs all the stars and the entire cost of the drama they did so well"
Savera is just cherry on top; among the already amazing cast including Humayun Saeed, Faisal Siddiqui, Hira Mani, and Ayeza Khan. Moreover, safe to say, whoever was in charge of choosing the actors has done a great job.
The show received massive flak after the controversial interview Meray Paas Tum Ho's writer Khalil Ur Rehman gave; which led to several celebrities speaking against him. The writer's disturbing views on women and feminism made every soul cringe with the usual misogynist debating him to be on point with his views.
Meera isn't the only celebrity glued to the show. There must be many closet-fans. In addition, this show has made to the top 10 list of this year's best and most popular shows. We won't be surprised to see various dubbing of the show!
Are you a fan of Savera Nadeem? Let us know in the comment section below!