Women can be anything but not "bold and beautiful". The deadly combination of the two words is taken as a mere shame for a lady. She is then not praised for her attractiveness but instead, her clothing that doesn't feel good in the eyes of the society. Our history tells us about several such incidents that have occurred in the past and continue to do so. The recent target of the public gaze is Meesha Shafi who is getting extreme hate for her attire at HSY's party.
THE BEAUTY IN BLACK
Not too long ago, Hassan Sheheryar Yasin aka HSY, the fashion designer who needs no introduction, hosted a party at his place. Almost every celebrity of the Pakistani industry showed up to add more glamour and style to the full event. Most of the stars were seen wearing black outfits or maybe it was the theme but out of all of them, Meesha Shafi remained to be the highlight.
MULTI-TALENTED LADY
It wasn't the first time when she decided to do something unique by keeping it trendy and tacky, but with time, she is getting better and bolder. Her outfit this time was of silver and black color along with which she wore a silver necklace to gave it a nice and simple touch. To add a cherry on top, she wore a blue shade of lipstick that gave gothic vibes.
THE GOTHIC LOOK
It's astonishing how none of these laws apply to any man who wears shorts and just roams around because Islam doesn't even allow that. If you want to school everyone on clothes then at least be less biased. It's ironic how society acts normal while watching a female on the big screen with fewer clothes. However, in reality, they couldn't stand seeing a female in any outfit that show an inch of her skin. It's society that appreciates such things and then criticizes them.
BLACK WAS EVERYWHERE
Her unique attire got everyone to turn their heads and look at the hot lady that nailed wearing black. Although, it was all fine until the images of the event were uploaded on social media where the trolls were already prepared to tell a woman how shameful she is, plus how big of a sin has she committed. A majority in the comment section acted like aunties of every neighborhood who judge every girl's character by her dressing and then rate how much of a "musalman" she is.
HAPPY CELEBRITIES
A female is never your mannequin to make her dress as per your standards and values. She can do it herself. So, people can stop acting like her spiritual guides.
WHY ARE YOU LOOKING AT IT THEN?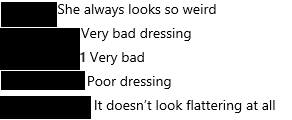 EASY NOW, PEOPLE…

WELL…

YOU'RE GIVING ATTENTION TO SUCH STUFF. DOES THAT ALSO COUNT?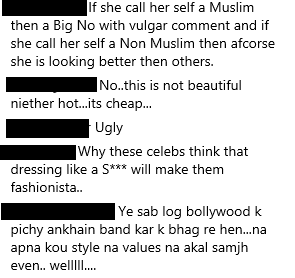 If you liked this article then like, share and comment down below to give us your feedback.