In the world of stereotyping, people generalize things a lot. Looking at the sample and judging the whole, Muslim women are judged and bashed all over the world. Minister o France of women rights, Ms. Rossignol who was all set to defend the burkini (Muslim bikini) ban. Burkini was launched by Aheda Zanetti in Australia. The minister of France was defaming Muslim women who wear hijab and dress conservatively by choice. Though Rossignol did face a lot of bashing after her overt hatred towards Muslim women. Some even wanted to put her off the position of Minister of women rights.
This doesn't just end here. Many people in the west like to believe and wonder that Muslim women who do hijab, would be observing parda even while showering. *Facepalm* People on various websites put up such questions to get answered by Muslims. There was yet another "stupid" question put up on Twitter asked from a Muslim girl and she got a cracking response!
This is what she said! HILARIOUS!
*Giggles*
"Boob Burqas" HAHAHAHA FS pic.twitter.com/AgoUw6zpw4

— Traders Empire (@theycallmebeavz) May 30, 2018
DED! VERY MUCH

What even?!

OHHH! LOL

Much more to see 😉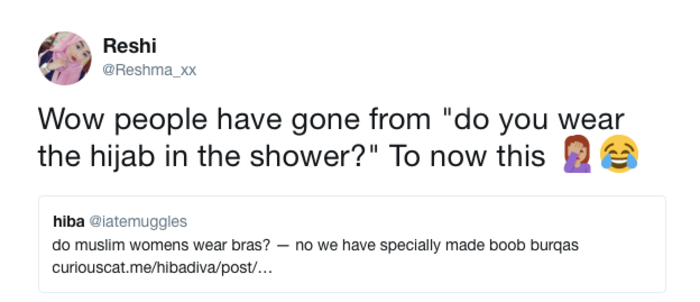 On a lighter note, many Muslims turned this into a cracking joke. While there is a thing called common sense and part of it could be used if that's available at disposal for the people who ask such questions. Who wouldn't wear a piece of undergarment just for the sake of what they believe in? Nodoby likes being judged for the what they believe in or their faith.
There are many other questions asked on Twitter about how Muslims control their anger when they fast? That's the reason they fast. No? It's a process of self-control from which they go through to rectify their life; like any other spiritual reawakening in any religion.
Have you ever been asked such questions?? Let us know in the comments below. Cheers!
do muslim womens wear bras? — no we have specially made boob burqas https://t.co/qqCEKIGZHe

— hiba (@iatemuggles) May 28, 2018