Social media can be very unpredictable. It has the power to ruin someone's reputation or make someone a star. Literally! At times, the situation can be life-threatening where people can even receive death threats and make life a living hell.
Recently, Natalia Gul Jilani was targeted for her performance in which she talked about Sindhi community (being a Sindh herself) in a lighthearted manner. This video which got seriously viral backfired badly and many Sindhi folks got offended and that's when the stand-up comedian, Natalia, started receiving death threats and hate on social media.
Later, the video 'Sindhi Encyclopedia' posted by a Facebook page 'The Circus' was taken down and both the page and the comedian issued a clarification for this matter.
 The Circus released an official statement regarding the whole which said: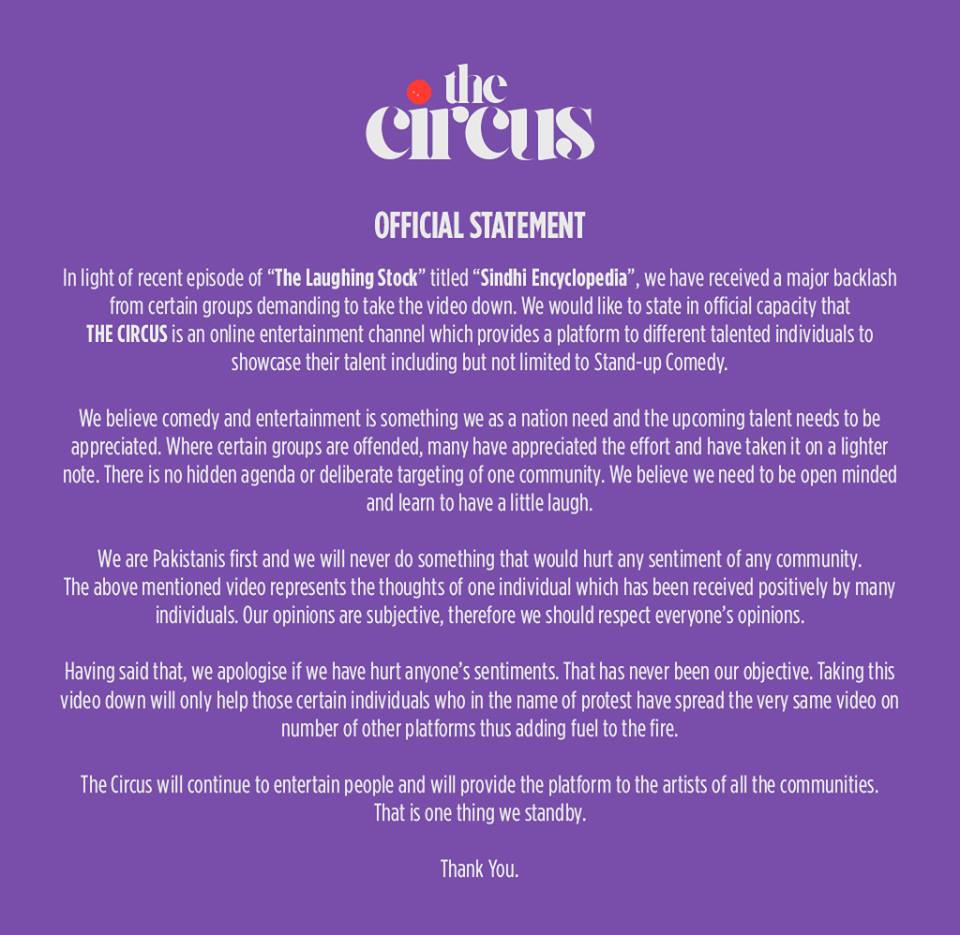 Here's Natalia's video where she apologized to all Sindhis
Natalia says:
 "I am doing this because I am receiving life threats and my family is really concerned about me," she said while talking about the name calling she has received ever since the video went viral."
And on Twitter as well…
Unconditional apologies for my recent standup bit, didn't mean to hurt my Sindhi Nation's sentiments. #ProudSindhi #JeaySindh

— Natalia Gul Jilani B (@NataliaBaghdadi) August 20, 2018
Many celebrities also stepped forward supporting Natalia in this fiasco…
Im a sindhi nd i realy liked ur act nothing wrong abt it ppl who criticize u r themself empty head . Keep up the gud work .

— Nabil Gabol (@Nabilgabol) August 20, 2018
Ali Gul Pir was there too…
No need to apologize. She is a Sindhi comedian trying to make some jokes about herself. Don't like the jokes then don't watch it #RightToJokeAboutSelf https://t.co/pvYoiN9nJj

— Ali Gul Pir (@Aligulpir) August 21, 2018
Here's what Fifi Haroon to say
Nothing even remotely objectionable about your stand up on Sindhis. As a Sindhi I found it totally in good humour and just affectionate ribbing. The nation that can't laugh at itself needs to learn how. Don't indulge them/us by apologizing. https://t.co/6aw1aEOnyD

— Fifi Haroon (@fifiharoon) August 21, 2018
Sanam Marvi, a Sindhi folk singer, also called her out on it: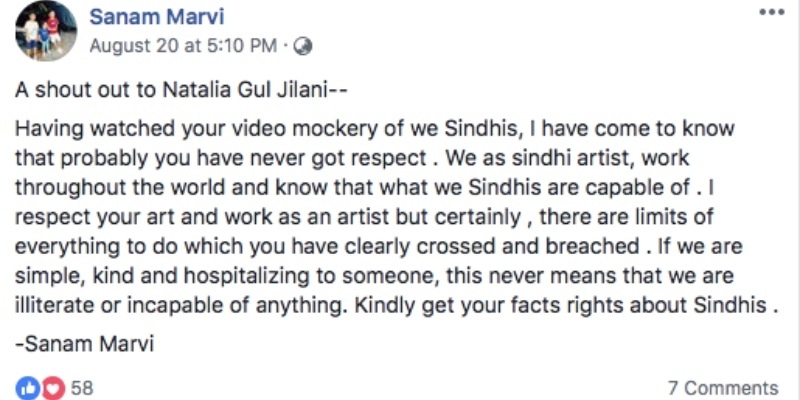 However, all of this led Natalia to deactivate her Facebook, make her Instagram private for security purposes until things settle down a bit.
We hope those who got offended accept her apology. What are your thoughts on this? Let us know in the comments below.