Without a question, Pakistan's entertainment industry has so much going on in its reviving period. Alongside the addicting content being produced, celebrities connected to it sometimes get caught in the criticism box for their bold statements. Similarly, one of the most underrated actresses in the country, Nausheen Shah's recent interview with fellow artist Iffat Omar has turned controversial.
Nausheen Shah's controversial interview is raising many eyebrows!
Often, artists are seen getting bashed by their admirers on social platforms regarding their blunt attitude. Certainly, earlier, pictures of actress Saba Qamar smoking stirred a debate on the internet and Pakistanis were not impressed. However, recently, Nausheen Shah's controversial interview on "Say It All With Iffat Omar" online show is raising many eyebrows.
Here's the full interview of Nausheen Shah!
Apparently, the "Dugdugi" star already tops the list of outspoken and bold celebrities in Pakistan's show business. These days, actress Iffat Omar is hosting an online show called "Say It All With Iffat Omar" on Najam Sethi Official YouTube channel. The show is based on a basic television plotline where different celebrities are invited to share their 'not known' life with the audience.
Naushee Shah on Say It All With Iffat Omar!
Last month, the bold and beautiful actress Nausheen Shah was invited as a guest on the digital show. While speaking of her life struggle and harsh journey, Nausheen revealed many unknown but controversial facts about herself. Moving further, talking about her lifestyle and choices, Nausheen Shah's take on fashion and personality has stirred a debate on social media.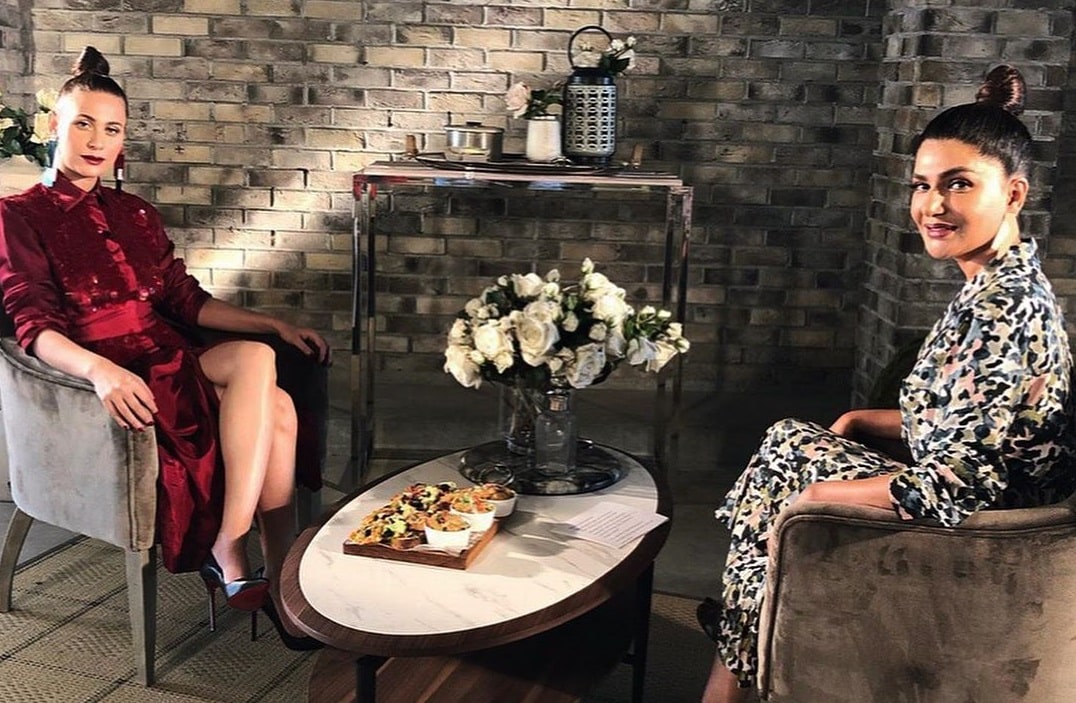 Starting off with Nausheen Shah's Instagram handle, Iffat Omar asked about the statements quoted in bio. Responsively, the actress said that fashion is changeable and is a free state while one can't do experiments with personalities. Further, Nausheen Shah stated, "Mujhe khud achay kapray pehen'nay ka shoq hai. Main shayad, agar aaj, kapray aur jooton pe kam paisay karachti to mera ghar bara acha hota".
"Spent more on shoes and clothes instead of the house"!
"Main ne saara meray khayal main jo kamaya hai wo kapray aur jooton pe hi laga diya hai", she added. Moreover, sharing her opinion on creating a statement, Nausheen Shah said that what you are wearing doesn't matter. Talking of brands and designers, the actress believes that big brands and designers don't make a statement.
Also read: Zainab Abbas Opts For 'PSL-Theme' Entrance On Her Own Shaadi
"Fashion, designers, baray designers, in ke kapray pehan'nay se statement nahin banti. Aap landay ke kapray pehen lain. Main tou phatay huay jooton main aur (literally) phati hui t-shirt main, bagair makeup ke chali jati hun". Sharing the reactions of the public on her 'carefree' lifestyle, Nausheen Shah revealed that people ask her why don't she do makeup?
Pakistanis reacting to Nauhseen Shah's bold statements!
"Aap actress hain? Aap thora sa tou makeup kar liya karain. And I'm like, I really don't care", she maintained. Apparently, not only her statements but her red shiny dress was also questioned by the masses. Eventually, social media users started bashing Nausheen Shah on her dressing and the comments are ugly.
This user quoted 'people' said!
Chalo theek hai!

Hain? Acha!

"Tights pe paisay nai kharch kiye"!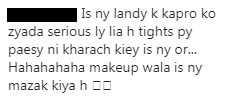 Itni nafrat?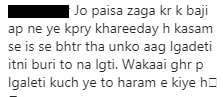 What do you think of Nausheen Shah's statements? Let us know in the comments section below!