In a matter of seconds, everything about the world becomes meaningless when you are in the house of Allah which is Kaabah. Being at a stage where you are so close to Allah makes you want to capture everything and just never let go of it. A majority in that regard, try to take pictures despite that it's not allowed. Shortly, the famous Pakistani actress, Reema Khan, performed Umrah and uploaded a picture of it that has sparked a debate.
MAY ALLAH ACCEPT HER UMRAH
It's not the first time when anyone went on to click a picture and uploaded it to social media. Some years back, there used to be very strict laws regarding such incidents, however, now there seems to be leniency for such things. Although the point that was being raised by the audience was not just restricted to the picture taken, it also included the pose that she was standing in.
THESE ARE THE PICTURES OF SOME OF THEM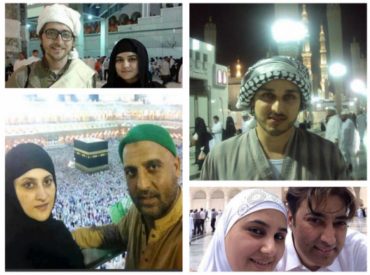 While performing Umrah or Hajj, it's true that nothing about the world bothers you any anymore because what you see and witness takes you in a zone where you only care about Allah and just want to keep thanking him for how much he has blessed you with. Having said that, we can never thank him enough for whatever he has blessed us with and is still blessing us with. But, everyone has a different connection with Allah that no other human can judge. So, it's better that we don't school her for her deeds.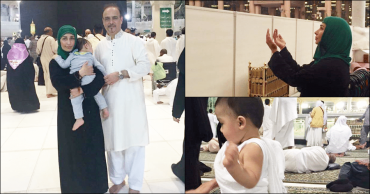 No one can ever judge a person by one act, it's true that she shouldn't have taken a picture. Though even if she did, it's between her and her God, leave that to both of them. She's answerable for each of her deed, if it was bad then she will be questioned about it but in the world, you have no right to put fingers on her. Being a public figure doesn't mean that she is a public property. In case you think that it's been over exaggerated then look at the kind of comments people have made. That might change your opinion on this.
GET A LIFE!

YOU'RE NO-ONE TO JUDGE BUT STILL JUDGING

SHE DOESN'T HAVE TO FIT YOUR CRITERIA OF GUNNAH AND SAWAB

THAT'S A VERY BIG STATEMENT TO MAKE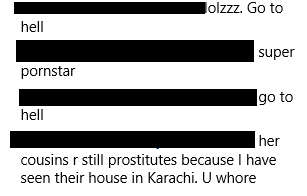 NOBODY NEEDS YOUR ADVICE

ALLAH IS THERE TO DECIDE

PATHETIC MENTALITY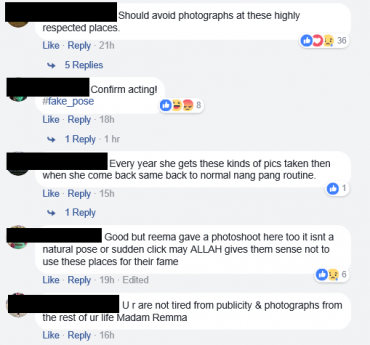 After all these years, the very first thing that we, as a nation, need to learn is to give each individual their space. What they do should not bother you, because if you are commenting on them then it's not them who will only be questioned but you will also be asked to justify that. So, either brace yourself or stop it from now on. If you liked the article then like. share and comment down below to give us your feedback.