Life is all about experiencing new things, going on an adventure, exploring the beautiful world and doing crazy things because normal is too mainstream. It might seem like an off the topic debate but road riding at night can also be a thrilling experience that might be one of the best things that you experience in your life. Shortly, a video was uploaded by the stunning lady, Syra Shahroz in which she was riding a bicycle, but out of shock, people didn't like it much.
THE AMAZING BICYCLE RIDE
Riding a bicycle is always assumed to be a daytime thing although it can be fun even when the sun goes down. For many, it might sound like a bad idea but in reality, it's not as bad as it sounds. Well, it's rightly said that not everything is same as how we imagine it to be. Try it only once and you for sure will fall in love with it, but make sure you carry the right equipment because no one would want to end up at a hospital.
IT MUST BE THE BEST THING EVER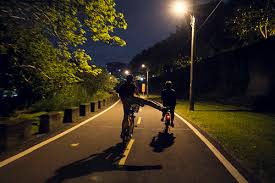 There seems to be nothing wrong with her riding the bike at the night time, instead, it's exciting to imagine how the actress must have experienced the cold air on her face. The music being played in the background of the video gives it a more zestful feeling, although, despite all the good aspects, she was bashed for not wearing reflective clothes, riding without a helmet and being on the wrong side. It wasn't a wrong move to let her know about the things that could have made it a safer road ride but the positive aspects should also be kept in mind.
IT'S HARDLY VISIBLE MAYBE SHE WAS WEARING SUCH CLOTHES

SHE MUST TAKE CARE OF IT FOR THE NEXT TIME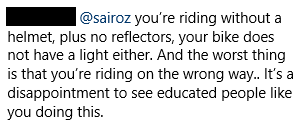 KARACHI HAS THE WORST TRAFFIC

FINALLY, SOMEONE LOOKED AT THE POSITIVE ASPECT
THEY ARE COUPLE GOALS

A number of girls till now, couldn't imagine road riding at night as it always been termed unsafe, but seeing her ride on the roads freely without having any fear denotes that Pakistan is now getting safe for girls. These baby steps might one day lead to a brighter and safer Pakistan for all the females out there. Way to go, Syra! We love you! <3
Plus, if your short journey around the globe doesn't give you happy tears and stomach aches of laughter, then it's not completed yet, keep adding best moments to it. Because it must all look perfect when you go down the lane. If you liked the article then like, share and comment down below to give us your feedback.