Pakistani actress Ushna Shah has been facing severe backlash after she posted an insensitive tweet against doctors fighting coronavirus in the country. Where people across the world have been paying tributes to doctors and paramedics, Ushna's tweet comes in bad taste.
Doctors and healthcare workers across the world are under immense pressure as they deal with the rising number of coronavirus cases. In order to uplift their spirits and deal with the crisis, medical staff at various hospitals have been seen dancing away their blues.
However, Ushna recently tweeted that she found the viral video of doctors dancing as a waste of time. And that it was the 'precious' time that these doctors were consuming to dance.
After facing criticisms from the masses, Ushna deleted the tweet.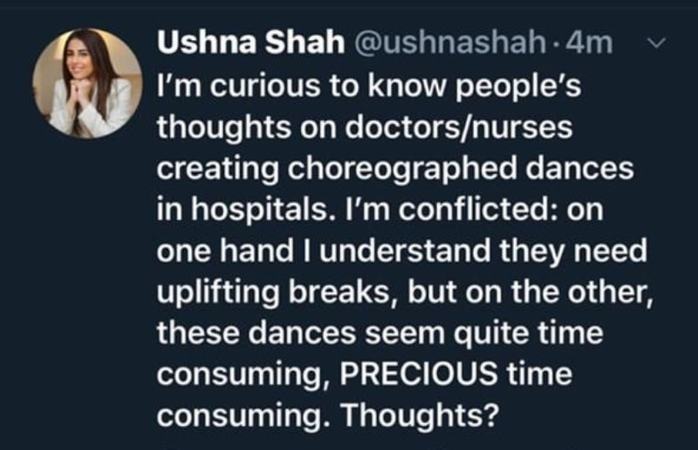 Twitteratis slam Ushna for her tweet
But, soon after the tweet, people started bashing her for being insensitive towards the doctors who were trying to relax from their hectic schedules. People have been calling out the actress, given that these doctors have been fighting coronavirus, forgetting their families, their homes or their own health.
Some slammed the actress for spreading negativity, while many said she should take a break from her own privileged life and get a reality check to be more appreciative.
You should have tagged here an obnoxious girl of your fraternity #Ushnashah who's busy in judging doctors.

— Kaif Hameed 🇵🇰 (@kaif_hameed) April 9, 2020
You should be ashamed of yourself and apologize to doctors for what you've said.#Ushnashah

— NaveedTariq11 (@NTariq11) April 9, 2020
Someone is risking life and all they care about is voh nach kiu rhy hain. Ajeeb .-. #UshnaShah pic.twitter.com/UdpW0BLAJm

— Kiran Raza (@kiranraza_1) April 10, 2020
Have you ever worked for 30hours in an emergency where you've to manage patients & perform surgeries, sometimes without even resting for 5mins? @ushnashah

Please don't utilise the 1% brain that you've to criticise doctors who're risking their lives.

— a. (@izastweets10) April 9, 2020
However, just a few hours before the tweet, Ushna had shared a video of herself stitching hazmat suits for medical staff. She also urged Pakistani people to do some effort and help the Pakistani doctors fight against coronavirus.
Ushna's sly history
Moreover, earlier, Ushna had found herself embroiled in a similar controversy for rebuking and humiliating a pizza delivery guy. Netizens were not too pleased with her over the act.
It all started when Ushna passed a demeaning and sexist comment to a pizza delivery guy who came to deliver food to her doorstep.
Ushna's blunt attitude towards people always lands her in controversy. She also once had a brutal encounter with the airport staff of which she also ranted about on social media.
Celebrities need to be careful when passing comment on such sensitive topics. These are the people who shape society and influence actions and behaviors.
What do you think about the story? Tell us in the comment section below