It is a known fact that everyone loves improving themselves, so technically we all love the newer version of us. Being born in the '90s has some perks of its own, and disadvantages too. Like, every time those hardcover photo albums are taken out in winters, where all of the family is sitting in one room munching on those moong-phalian and is laughing at each other for how they looked. In that moment of shadeed sharam all, you want to do is run away and disappear from this embarrassing situation.
But the internet can be as cruel as your phuphoo, so God knows how and who started this #10yearschallenge!
The internet is FULL OF COLLAGES, with one ugly af' photo and one where the person is looking nothing less than a "Koilay sy tarasha hue heera" Ouch!
Here's Muneeb Butt sporting his 10 Year Challenge, and wow, the transformation!
View this post on Instagram
 Would you believe if we tell you this is ARMEENA KHAAAN!!!
Different or not? Komal has transformed a lot!
There are many celebrities who did not really take part in this challenge but yeah, we tried digging into their old photos and DAMMNN! The difference will blow your mind. 😉 Brace yourself!
Oye hoye hoye!!! 10 years or 20, she's born hottie! :O
View this post on Instagram
WTH!!!! Such transformation much wow very shockss! Sarwat nailed it.
Tooba didn't really change but she has sure become more graceful with time! No?
Amna! Gurlll, it takes a lot of guts to post your passport size photo!!!
View this post on Instagram
We couldn't find Sajal's 10 years old photo but since it was her birthday and some of her fans wished her in the most cutest way possible and this photo from her childhood is a proof that few things don't change!! LOL!
She still cries the same way! 😀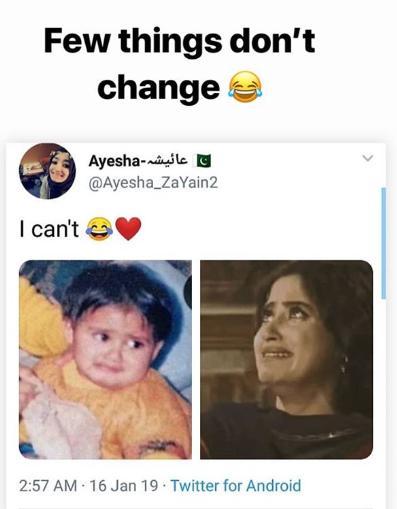 And here we have other savage people!! This is on point!
Eggs in 2009 vs eggs in 2019 #10yearchallenge pic.twitter.com/SvTbz2PoIs

— Nitya Graciana Rajan (@NityaGRajan) January 15, 2019
THIS IS LEGIT!!!
Saw everyone posting these 2009 vs 2019 pics so here's mine pic.twitter.com/nIn5TU7zNE

— Sam Thorne (@Strippin) January 13, 2019
Now, since the 10-year challenge is up. Would you dare to do it? Maybe go and dig into all those hardcover photos and find an "appropriate" one and post with your current pretty ones. Eh?
If you ever choose to do so, please bestow our eyes to witness that and comment that collage of yours in the comment section below. Teenkss, k bye!