The Pakistani entertainment industry is always making sure to keep us on our toes. May it, be through their vocals or through some really hot gossip, Pakistani celebrities surely know the drill. Now isn't it so, sometimes our beloved celebrities tend to get a bit out of hand. Don't believe us? Check out as Mahira Khan and Alizey Shah get a little handsy onset of Superstar.
Mahira Khan & Alizeh Shah leave the public swooning
When we talk about Pakistani celebrities, Mahira Khan is never a hard miss. The fashionable beauty queen knows how to keep the public excited and waiting for her movies to come out.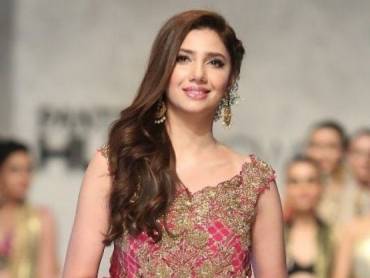 From her debut in Humsafar drama to her recent movie Superstar, Mahira Khan is a pure diva. Now add the gorgeous doe-eyed Alizeh Shah in the mix. The young beauty has made her own name in the industry with her classy style and confident roles that she is grabbing. From Ehd-e-Wafa to Mera Dil Mera Dushman she is truly a successful rising star.
Mahira & Alizeh share an intimate moment with fans
On the set of their latest film together, Mahira Khan and Alizeh Shah have definitely come quite close. Well a bit too close. These two Pakistani celebrities are known for being very friendly and having a great connection. Both of them are humble and friendly in nature, which is why they are adorned by the public and the entertainment industry.
However, a video has been going viral as both of these celebrities are seen hugging each other as they goof up behind the scenes of their new film, Superstar. The video shows us a clip of how Mahira Khan is sitting and discussing something completely random while Alizeh Shah sneaks up behind her while giving her a hug. Although, this is an adorable throwback of their shootings. Although the video clip is making us swoon, the trolling has yet again begun. And boy, do Pakistani's ever let anything go?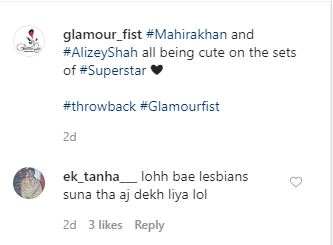 Alas! We can't do anything about negative people and narrow minds. The adorable bond between these two is something surely we can peg on and hope for more adorable moments to come. What we do wonder is, why is it so hard for people to accept women supporting each other?
It would be unfair to say that both the celebrities are not only lovable but extremely adorable and can be seen as having different moments on set. We love them both because of their hard work, dedication, and of course cutesy attitude which is why they are not only fun to work with but just beyond amazing. We really hope to see them together onscreen really soon.
What do you think of the story? Tell us in the comments section below.