Growing up we hear people tell us that how life is about highs and lows. That every time we fail, our friends and parents try to encourage us that it's not the end. As long as you live, as long as you breathe you have a chance to get up again and start afresh. Haven't you heard the famous Japanese saying: fall seven times, and get up 8!
There are times when people fall flat on their faces and have no hopes of getting up and starting anew; such people just need a boost by seeing someone like themselves who fell hard but got up again.
This guy, who topped the CSS 2017 exam and has just completed his training, wrote something about his journey. If you want to know how working hard for your passion can make you madly fall in love with it, Awaid is the perfect example of that!
Irshad gave up a career which is a dream for many people. He flew back to Pakistan leaving Cambridge, just to appear in the CSS exam and serve his country!
"Perseverance commands success" – These are the words I learned at my alma mater and they reflect how my journey has developed over the years. My life started off with a twist and turns that I never predicted. However, if one never loses hope and works hard, it eventually reflects in his positive trajectory of life
When I started off my high school at Beaconhouse, my father wished that at least one of his sons makes it to the prestigious Aitchison College since he grew up looking up to the institution. I worked hard and scored well in my exams to make his dream a reality.
When I got to Aitchison college, I met some of the most inspirational people in my journey and I wanted to excel amongst them. I worked hard, participated in national public speaking competitions, music festivals, academic conferences, and the student body. I knew this is just the beginning so kept my focus on my aim to improve.
I applied to many institutions around the world and got accepted on an honorary Excellence Scholarship in one of Europe's finest universities, Utrecht University. However, I knew now that I am here, I need to look up and move forward. I played club cricket, represented the university in European Union conferences and worked for top financial organizations in Holland.
Given my academic and extracurricular performance, I was selected amongst the very few individuals to be sent to UC Berkeley in California. Getting into one of the best public universities in the world was a matter of pride and honor. Yet, I knew if I am here, I need to make my mark. I worked hard and excelled in education alongside writing about problems of Pakistan and the developing countries.
My efforts were rewarded when I was offered a place at Cambridge University in Development Studies with a focus on Economics. Here I wanted to further hone my skills so if I join the civil services I can contribute to the country. I spoke in the prestigious Cambridge Union about Pakistan and engaged with various NGOs to ensure a better structure for sustainable change in the developing world.
After Cambridge, I knew I needed the professional experience to complement my academic knowledge. Thus I join Ernst and Young in London, one of the top accountancy firms in the world, and in a matter of months completed most of my ACA exams. However, I knew my heart was always in civil services.
Thus, I resigned from a lucrative career and went back to Pakistan to pursue CSS. Even my closest friends were skeptical of the idea that leaving an established career for an uncertain exam was not worth it. But I knew that this is my opportunity to contribute to my country through effective policymaking.
I worked relentlessly for the exam, gave repeated mocks and kept excelling in my academy, World Times Institute, where my teachers and friends kept guiding me through thick and thin. After a long duration of efforts, I appeared for my exam.
And by Grace of Allah, stood first in the country in my first attempt. It was a humbling experience as one can never prepare for such an honor.
I became the PMC of a batch that possesses the immense talent and I knew that getting here is not enough. I need to persevere to do something while I am here. I worked arduously so that I can contribute to my probationer's experience if they have conferred the respect and responsibility towards me. And now with the end of the term, their appreciation is worth all the efforts.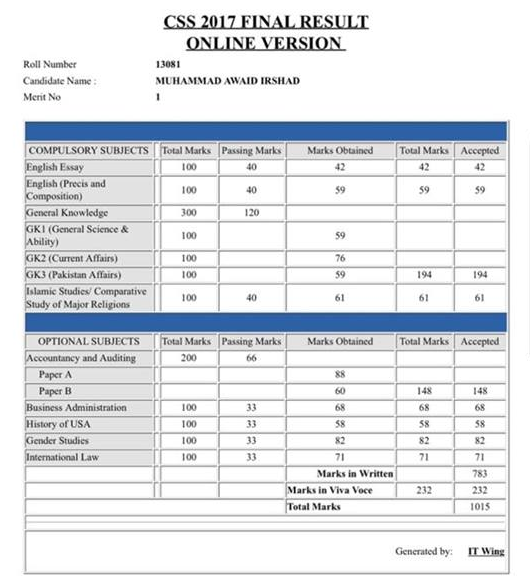 Now that we are moving to civil services, as a PAS officer, I have great hopes and expectations not only of my peers but my students and the people. I cannot rest, I want to improve every day so I can deliver in the best possible manner.
To be successful in life, one does not need to be a bookworm. I played guitar, drums and sang in gigs and concerts. I played club cricket and other sports throughout my time. I traveled around most of the world by saving money from university costs. I won laurels in public speaking competitions and I worked in social work for underprivileged.
Everything that you do grooms you and equips you with the tools to become better. So never rest, always work hard and move forward. And above all respect, all those around you since everyone has their story of struggles.
If one is optimistic and perseverant, Divine help is with him as well."
I hope we can all inspire those around us and help all those in need throughout our careers.
(Irshad Bhatti – 1st position, CSS 2017)
-Credit: Humans of CSA
He didn't just study day and night, but lived his life to the fullest!
Irshad is the perfect example of how nothing is impossible! Consistency and optimism are important in life, believing in yourself and having faith in the divine power are all a person needs!