Dowry or you can say 'jahez' is still prevalent in our society to a great extent. A dowry may include furniture, clothes, crockery, electronic items, money etc. At certain times, dowry is demanded by the groom's family and at times, even if the groom or his family does not demand it, the bride's family gives her whatever they can afford with their own will and happiness, and also to please the society. However, this issue is something we all need to stand up against.
Recently, a post about 'Advantages of Dowry' went circulating on social media. It left everyone's blood boiling. We know how this issue/practice is a social evil; what was truly appalling was the fact that the advantages of it are justified in textbooks. Yes, the study material that was reportedly given out to students at St. Joseph's College in Bangalore, had a chapter on the advantages of it.
The very first point said:
The marriage of ugly girls, who otherwise would have gone without a partner, is made possible by offering heavy amount of dowry.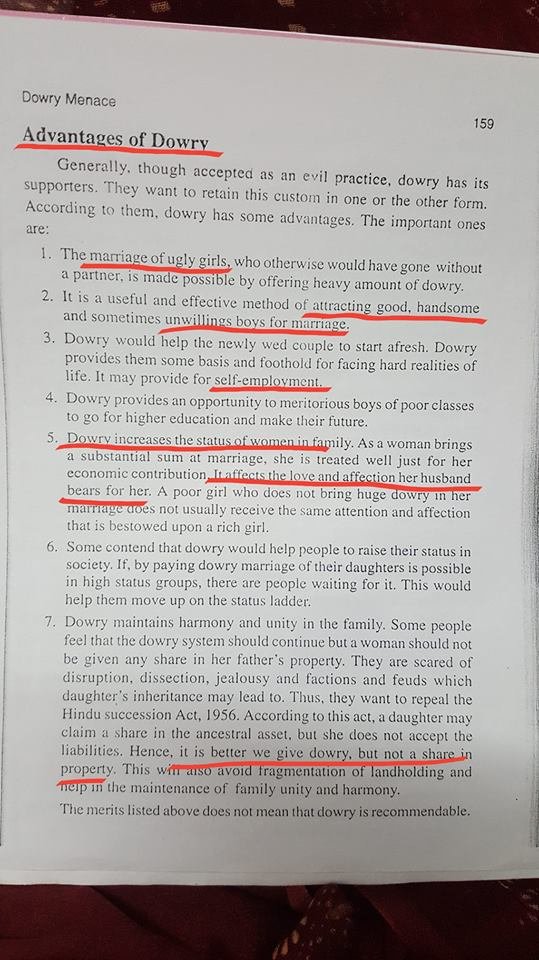 Here's the original post:
The chapter also said:
Dowry increases the status of women in the family. It affects the love and affection her husband bears for her.
According to The News Minute, the college has refuted the allegations and Head of the Department of Sociology, Dr. Berin, said that the college "does not have a system of handing out study material." Well, seems like the students have a different story to tell…
Dowry cannot be justified in ANY way. This social evil has taken lives of many women and has led to female infanticide. How can this be justified? Together, let's kill this social norm that has been making women's lives a living hell. Let's stand up against this practice and those who demand dowry.
What are your thoughts on this? Let us know in the comments below.