Where Pakistanis are getting obsessed with Turkish actress Esra Bilgic, our own talent is being neglected or stays in headlines for all the wrong reasons.
Recently, Esra modeled for Pakistani magazine Hello! and she looked stunning like always. Pakistanis loved her in the recent photoshoot and were seen praising her beauty and style. She does look like a goddess. However, when the same style was adorned by the Pakistani actress Mahira Khan, she faced severe criticisms.
Both the actresses are Muslim but the Pakistanis judge Mahira brutally. While Esra gets all the love. We have no problem with them praising the Turkish actress, but we have an issue with their hypocrisy.
Actress Armeena Khan also raised the same issue on Twitter and mentioned how people were criticizing Mahira for wearing an almost similar outfit that Esra wore in her recent shoot.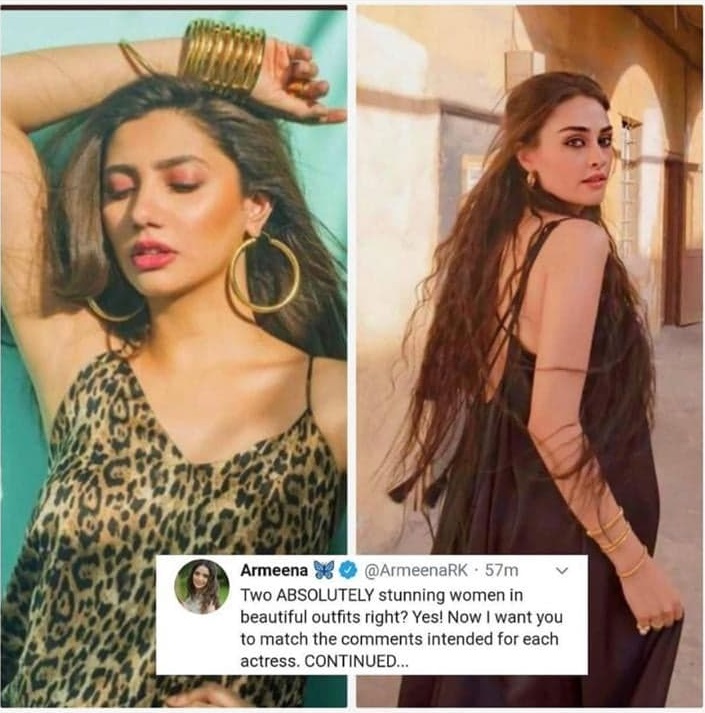 Kiya yeh Khula tazaad nahi hai?

— Armeena 🦋 (@ArmeenaRK) June 19, 2020
Wait for it…
Ji Bahut achay, Apni maa bhen ko maa bhen Ki gaaliyan nikaltay hein aap? Gandi Wali comments tow Meinay post hi nahi kiye. Yeh tow lol ho gaya.

— Armeena 🦋 (@ArmeenaRK) June 20, 2020
After a lot of public demand and inclination towards the actress, Esra has finally done the first photoshoot for the Pakistani magazine Hello!. She is the cover girl of the latest edition of Hello magazine.
However, we aren't too surprised by the criticism Mahira got. Our moral brigade kept trolling literally each and every person in the media. Esra too was once bashed after her bold personal life pictures went viral on social media.
Why can't we just mind our own business!
What do you think about the story? Tell us in the comment section below.