The world is filled with lookalikes and doppelgangers. And it truly amazes us, when we come across one. Not only it is surreal to meet someone who looks just like us, rather it is a giddy feeling. Pakistani celebrities are no different either. The minute we find someone who is either a lookalike or can do really good impersonations of our favorite celebrity; we work on making them famous.
Kurasah Anwar – Mahira Khan's doppelganger
Just a few weeks back, the news of Iqra Aziz's doppelganger took the media by a storm, and it was quite baffling to see that even Iqra's sister couldn't differentiate between the two due to the uncanny resemblance.
Well! If that wasn't enough to leave us amazed, the next doppelganger we are about to introduce you to surely is. And this time, we have found the most uncanny resemblance of superstar Mahira Khan!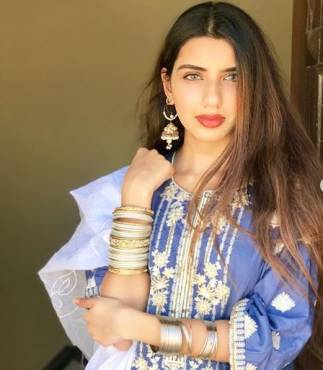 That's right! Even the superhit actress Mahira Khan has a doppelganger, and luckily, she isn't living somewhere all around the globe in Lebanon, or England, etc. No! She is right here in Pakistan.
Kurasah Anwar is a lifestyle blogger on famous social media site, Instagram. More so, Kurasah Anwar is proudly flaunting her resemblance to the Pakistani entertainment industry queen Mahira Khan. Although she doesn't go about portraying to be the actress Mahira Khan herself, she just manages to have a glam and shine of her own that is beyond classy.
Mahira Khan's lookalike or long lost twin?
Not only is it refreshing rather it is quite lovable to see Kurasah Anwar. May it be the famous shy yet piercing glare or the adorable pout, Kurasah Anwar surely had us dumbfounded on the first glimpse of her features which have such an uncanny resemblance that both Mahira and Kurwasah Anwar look like long lost twin sisters.
The eeriest aspect of this twisted story is that it can be quite a challenge to spot the difference if we do a side by side comparison. Moreover, it won't be a surprise, if someone mistakenly spots Kursaha and confuses her for Mahira Khan. So yeah! That's how closely and accurately they lookalike.
So it isn't a surprise, that Kursaha Anwar tends to get comments from 15.9k followers on Instagram, that garner her with comments about her resemblance to the Superstar actress, Mahira Khan herself.
"OMG, you look like Mahira Khan… For a second I got confused!" and "I thought she is Mahira Khan!"
Now the actual question piquing our interest is if you can spot the difference? Or are you able to see what the rest of the 16000 people are affirming to see? Surely, it seems like all Pakistani celebrities are getting cloned lately.
What do you think of the story? Tell us in the comments section below.