Mehwish Hayat was awarded the prestigious 'Tamgha e Imtiaz' on the 23rd of March at the Aiwan E Saddar for her achievements in the Pakistani media industry but along with it came a lot of criticism and degrading remarks for the JPNA actress.
In spite of her unsurmountable contribution for Pakistani television and cinema, many in the country could not fathom the concept of Mehwish Hayat getting awarded on a national level with a Tamgha-e-Imtiaz for her services and continued to attach degrading labels with her questioning her success.
People began to question her character and integrity
Welcome to Naya Pakistan, so ashamed to say "is this a madina ki riiyasat? Where Promoting vulgarity is appreciated #MehwishHayat pic.twitter.com/USpA5JOLTb

— AWAIS BHATTIツ (@Bhattisays_010) March 23, 2019
There were polls and votings taken for Hayat to figure out whether she's worthy of the award!
Does #MehwishHayat truly deserve to be nominated for the Tamgah-e-Imtiaz?

— Pakistan Poll ?? (@ThePakPoll) March 20, 2019
People also questioned her morals and the choice of government who's presenting her with the Tamgha e Imtiaz. 
Wo poochna tha @MehwishHayat ko #prideofperformance award "billi" song kee waja se mil raha ? #PTIGovernment #ImranKhan #pmik @pid_gov #pakistan @ArifAlvi @fawadchaudhry

— umar iqbal (@umariqbal1984) March 12, 2019
After receiving her award, Hayat shared the below picture on her Instagram expressing how overwhelmed she was with it. She dedicated her award to all the young women who strive to make their dreams come true!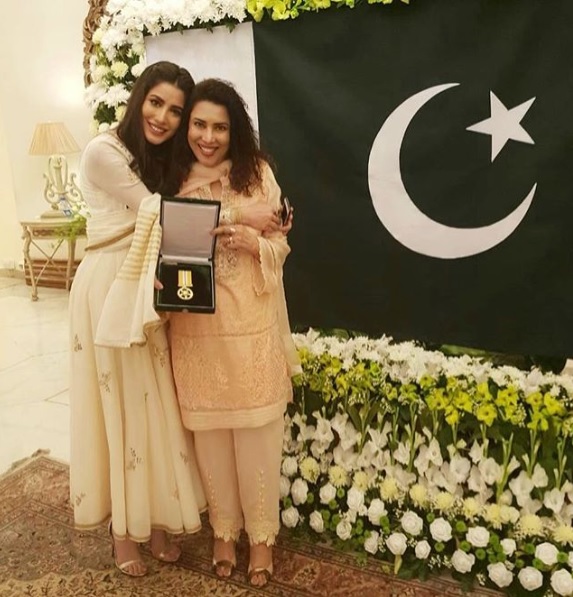 Here's what she wrote: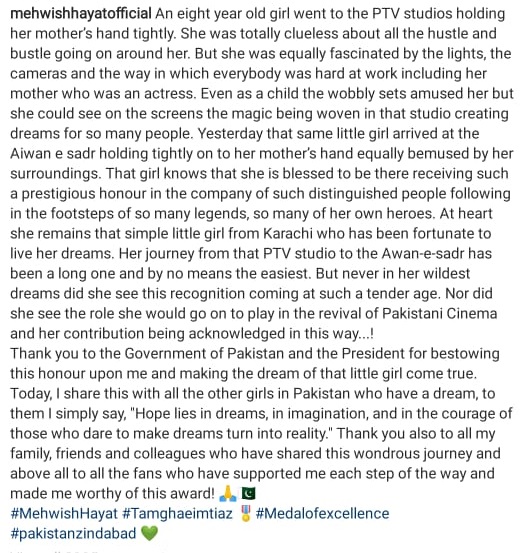 However, people continued to lash out on Hayat and expressed loathing towards the Load Wedding actress. As people continued to make Hayat the topic of discussion, she finally clapped back to give everyone a shut up call.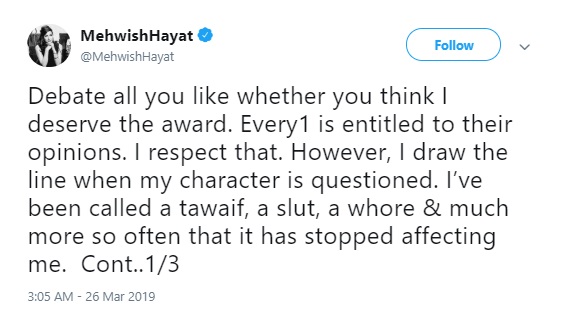 She mentioned how she never wanted to make this a gender thing
I never wanted to make this a gender thing but it is unfortunate that others seem to be. To suggest that I slept my way to this award is an abhorrent slur on all the hard working women in our country. We may be part of an industry that is seen to be glamorous – but it ..2/3

— MehwishHayat (@MehwishHayat) March 26, 2019
Hayat also wrote how women in our industry are treated, and how their 'morality' is always questioned.
but it doesn't mean that we have forsaken our morals. What gives anybody the right to drag my name into the gutter. You don't know me! Thank you to all the supporters & also to all the haters, it has only made me stronger.Last couple weeks have been quite an eye-opener for me.3/3

— MehwishHayat (@MehwishHayat) March 26, 2019
Right after Hayat shared the above tweet, a response from various renowned names began flooding in for the actress.
Hamid Mir congratulated Hayat on her achievement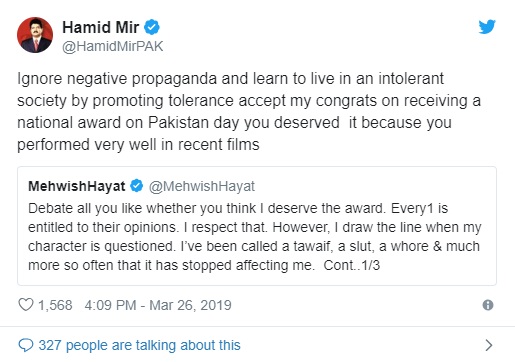 Shehzad Roy also wrote that trolls need to prepare themselves for successful women like Hayat
People waste no opportunity to tear down the Arts & women in PK. So ofcourse if a woman wins an award in Arts,all hell wud break lose.U @MehwishHayat won the debate tht followed & created an enabling enviroment for women from arts to come fwd.& when they do,trolls wil think twice

— Shehzad Roy (@ShehzadRoy) March 26, 2019
Singer Ali Zafar also congratulated Hayat
"Jo insaan kisi doosre ki khushi ya kamyaabi mein khushi mehsoos kerta hai, to khuda usko us se nawaazta hai jise dekh ke doosre rashk kerein. Ye meri zindagi ka zaati tajarba hai. Azma ker dekhiye 🙂 Well done @MehwishHayat! May you and your family cherish this moment forever." https://t.co/tWyi8m2QWV

— Ali Zafar (@AliZafarsays) March 25, 2019
Actress Nadia Jamil also expressed her affection towards her
I think shes a lovely woman. Hard working & beautiful. An asset 2 our films/dramas. If the Indians cn appreciate Katrina Kaif & Kareena why cant we appreciate Mehwish? Do you watch Indian films & pretend not 2? I think we should #AppreciateGoodThings & commitment 2 our industry?

— Nadia Jamil (@NJLahori) March 25, 2019
It's beyond sad that people in Pakistan attempt to bring women down regardless of how far they have come and what they have achieved.
Mehwish Hayat has worked hard to her way to success and her lashing out on people makes sense. It's high time we as a nation began treating women equal to men and appreciating their achievements rather than making everything about gender and character!
Let us know if you have anything to add to this story.
Read Also: MEHWISH HAYAT DESTROYS FAHAD MUSTAFA