Pakistani actress Saba Qamar has recently shared a beautiful photoshoot on Instagram. She looks enchanting in white handprinted saree. However, that's not it, there is a more interesting thing about this saree.
This is Saba's own though creation designed by Rehmat Ajmal. She is a model-cum-actress and a textile design graduate from National College of Arts. She also owns a small business enterprise, RehStore, where she creates custom prints and handpainted designs.
This monochrome saree features Punjabi romantic poetry in bold calligraphic script. Saba wore the saree with a sheer white, halter blouse; hair tied up. She looked elegant and mesmerising.
In an interview to a local tabloid Something Haute, Rehmat revealed that it was Saba's idea to print these verses on her saree. "Saba herself picked that Punjabi song verses and she better know the idea behind it".
"This idea stemmed straight out of Saba's creative mind. I always try to curate pieces that are as personalised and customised as possible. This particular piece is actually Saba's own pick. Each word we read in books or hear in songs have stories behind them that are open to interpretation. I really enjoyed working on this piece for her," she said.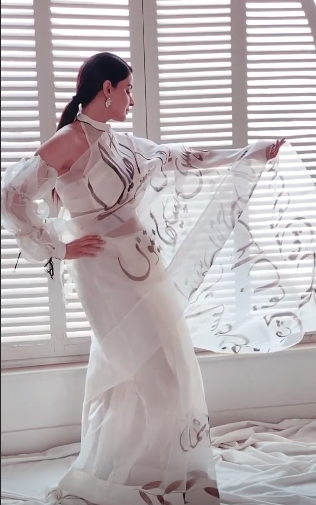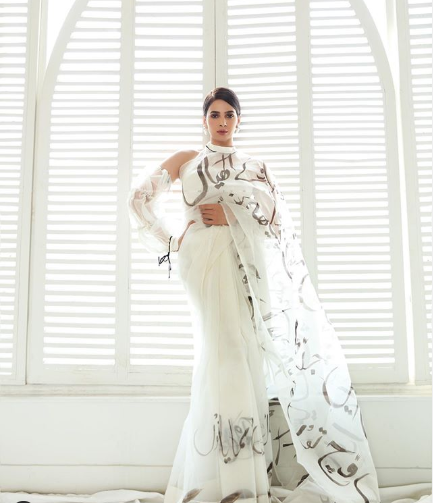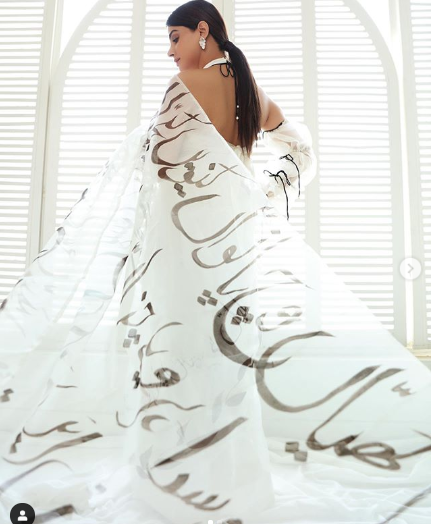 Saba has recently launched her YouTube channel where she can be seen sharing entertaining as well as inspirational content. She recently breaks the stereotype and talked about the Pakistani rishta culture in a funny video.
Saba Qamar has established herself as one of the most versatile actors of Pakistan entertainment industry. She is also a style icon and a fashion inspiration for many.
What do you think about the story? Tell us in the comment section below.