The 'Punjab Nahi Jaungi' actress, Mehwish Hayat, just celebrated her 36th birthday and we cannot believe it! Probably she doesn't breath the same air as we do or maybe she has the elixir of youth stashed somewhere because not everyone can look that terrific!
The style chameleon has never managed to fail her fans, whether with her acting skills or her being downright stunning with absolutely everything she does (those lips are a massive plus!) Hayat celebrated her birthday with few renowned celebs in K-town which included Sarwat Gillani, Fahad Mirza, Deepak Perwani, Aamna Ilyas, Frieha Altaf, and the list goes on.
Check out the video, Hayat posted on her Instagram: The video includes the celebs who attended the birthday and its actually a pretty nice clip!
Here's another one to lift up your spirits, if you're feeling low..
Although, one thing that was the highlight of the entire birthday party was the sultry dance of the model turned actress Sadaf Kanwal. The 'Balu Mahi' star knows how to groove on the sound of music and is no doubt a treat for the eyes for many of us.
The 25-year-old moved like a wave and we can prove that to you.. have a look and you may want to groove a little yourself.
Here's another one that you just might like!
Looks like Mehwish and Sadaf are pretty close, the two are usually seen together at various events and few pictures that really caught some attention of the public were really jaw-dropping. Have a look at what they had to say and don't hesitate to add in your own opinion of the image…
The feedback of these pictures are worth checking out..
Would you agree with the comments below?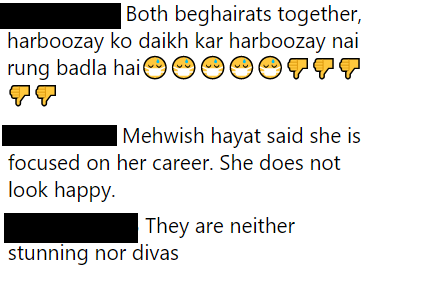 Well..

There were some more who wanted to say it out loud, what do you think? Fair? Or unfair?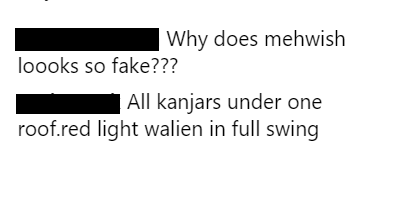 So, all in all, people were really vocal when they stumbled upon the pictures/videos of Sadaf Kanwal and Mehwish Hayat. Do you think these comments were a little too much? Were they hard on these divas? To be honest, we believe that if you don't like something/someone – just scroll away and don't be too bothered but we're guessing the masses don't want to opt got that option and exhibit some negative comments.
Let us know in the comments section what you had to say about this grand affair and whether the feedback of the public did any justice to the celebrities