Winters come along with the wedding season. Though it's not the case that people don't get married in summers, but it's less of a hassle in winters. Summers get tiring in the most metropolitan, with all the traffic and heat waves. In winters, with managing the guests and all the running around for arrangments, it requires less of a hassle.
So, ever since the winters have knocked the doors at this hemisphere of the world, there are mass weddings happening! LITERALLY, mass weddings! Mostly all of our classmates, cousins and friends have gotten engaged and it seems like the whole world was single before this winter!
All celebs are getting married too, all the kids of all the richest people are getting married too! Matlab kon reh gaya? Koi reh gaya hai toh bata do! Seems like the world will end after this winter, and nobody wants to die single!
Speaking of which, Chief Justice of Pakistan, Saqib Nisar's son recently got engaged too!
Najam Saqib got engaged to the daughter of Lahore High Court (LHC) Judge, Justice Shehram Sarwar!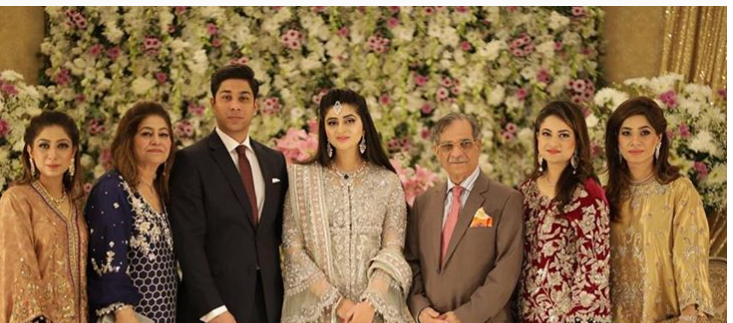 The ceremony took place in Lahore and was attended by all the close friends and family!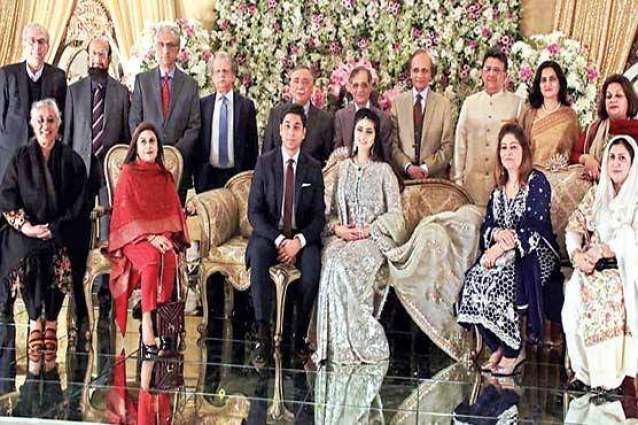 Former CJP Tassaduq Hussain Jillani and incoming CJP Asif Saeed Khosa were among the guests to attend the extravagant engagement ceremony.
There were many other guests from Lahore High Court and the Supreme Court as well. However, there are not many photos of the engagement ceremony on the internet and it clearly shows that it was very private event. And around the same days in which Najam Saqib got engaged, there were many other other events which Saqib Nisar attended; so people confused this photo (below) of Reema along with the Mr. & Mrs. Nisar in the photo from the engagement ceremony of Najam Saqib.
But it wasn't Najam Saqib's engagement photo. The couple was invited as guests at the Rukhsati" of Barrister Ali Zafer's daughter
Recently, when Malik Riaz's grandson got married and the events were making people's jaw drop, every event was bigger than the previous one. Yes, the gorgeous dresses of the couple and the guests were speaking for themselves!
Many politicians' children got married last year and Raheel Sharif's son was one of them. Not to mention our PM IK got married last year too, that too for the third time. But this time, he was saved by the "lady luck" which he generously accepts. Cuties!
Any guesses who else is going to get married this year? Let us know in the comments below. 😉