Remember how just a few days back, the internet was melting over the news of M&Ms not being halal? That pretty much shocked everyone till a clarification was given. Nonetheless, given how there are imported goods available all over the country at ease, it is a must for us to check whether these items are halal or haram. Rest assured, you may get some heartbreaks like the upcoming news.
So Someone On Facebook Shared Haram Cheetos And Oh Boy, This Is a Shocker
Pakistanis been consuming Cheetos for as long as one can remember. While we do have local Lays production in our company, the imported ones obviously have a different taste and pretty often people buy them as well. So Haris Chishti from Karachi shared how Imtiaz Super Store in Karachi is selling Cheetos which contains Haram ingredients.
Here's How Haris Found Out About the Imported Cheetos Not Being Halal
Beware of imported products from Imtiaz:

Yesterday I bought these Cheetos assuming that these products, been selling in Pakistan, would've been Halal. But I was totally wrong,
I checked their barcodes on SCAN HALAL , and came to know that these imported products contains haraam ingredients.

Today I went there again for exchange and asked the guy why are u selling these Haram products in Pakistan

He replied : sir Demand he costumers ki, they want imported Cheetos and doritoes.

Matlab aik to logon ko aqal nhn doosta log yehi assume kerte hen k as we are buying from a Pakistani supermarket chain , they would've been importing and selling halal prdocuts. Is waja se log check b nhn kerte .

Imported halal products Malaysia se asaktee hen buy these superstores are Keen to feed us Haram products ??

Aaj me yeh pictures leraha tha imtiaz me to mujhe yeh lene se b roka or pics delete kerwadi gayeen, but as they don't know the pics goes into recycle bin so I recovered
As a Muslim and citizen of Islamic republic of Pakistan it's our duty to complain about the supermarket chains.

Note: we just came to know about Cheetos … we don't know what other products they have been selling are not halal
Here's the link to the post: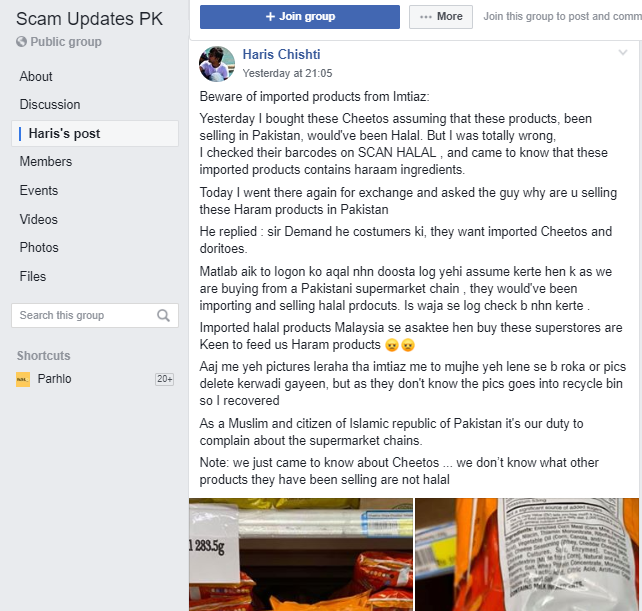 So message for everyone: be careful on what you are eating especially when it comes to the imported goods.