Isn't it always a treat to learn different things about our favorite celebrities? From their routine activities to well almost as much as they let us into their lives. Pakistani celebrities are always sharing different tidbits about their life with their fans. And we truly adore them for it.
Ayeza Khan – The queen of the entertainment industry
The beautiful and mesmerizing queen of the entertainment industry Ayeza Khan is always sharing moments of her happy married life. From pictures of her daughter to pictures of her husband, actor Danish Taimoor. These two are for sure the dream couple every Pakistani adores and loves.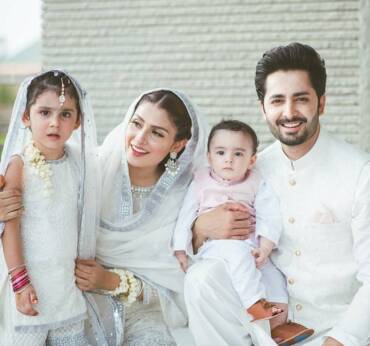 Most importantly, Ayeza Khan just returned to the entertainment industry with a bang after bagging to top hit drama serials Meray pass tum ho and Thoda sa Haq. Being a mother of two, the actress is truly a beacon of inspiration for many women and even actresses. Even superstar Mahira Khan, is a great fan of hers.
More than often it happens so that Ayeza Khan is conversing with her fans and sharing snippets of her life. From how she is disciplining her children to a lot more. And to say she has us hooked is the least we can do. Recently, Ayeza Khan shared quite cute memory of hers with us and we are in awe. If we used to think Hoorain Taimoor is cute, we are not going to get over her mom for sure.
That's right! Ayeza Khan just shared a picture of her own childhood, where she is dolled up into a dulhan attire and the netizens are in awe.
The cute caption
As if her adorable picture isn't enough to get us hooked. Ayeza took to liberty to add a funny caption about how she used to be as a child, and the response she is getting is beyond adorable. We can't stop laughing literally and adoring this beauty queen enough. Check out yourself. Doesn't she look adorable?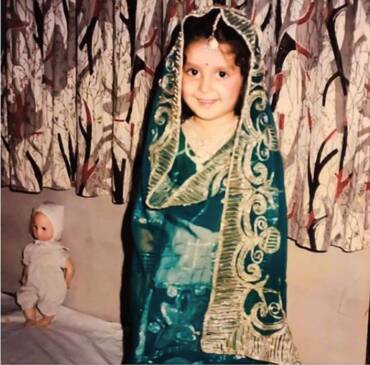 Ayeza Khan captioned this cutesy picture with:
Teacher: Bari houkar kia banogi? Friends: Doctor, Teacher, Doctor Teacher. 🙋‍♀️ : Dulhan 😄
Is it just us or do you find her too cute? Not only is she a beauty queen but she just knows how to leave a lively and long-lasting impression. The minute she posted this throwback people seem to can't get over it. The comments are overflowing with love and admiration.
In the end, we are so glad to have her as a role model. We truly adore you Ayeza Khan and we truly are grateful to have you as an inspiration. We hope and pray that you always shine and keep on making us smile and happy with your adorable and cute antics.
What do you think of the story? Tell us in the comments section below.