Chitral Valley in Pakistan is known globally for its enticing beauty and breathtaking scenery. With a stunningly dynamic landscape, the valley is rightly referred to as the heaven on earth.
But, the colorful spectrum of its landscape is not the only element that grips one's soul in wonder lust; the awe-inspiring hospitality of its people, the generous care and love which they offer to every visitor, is a gem that is rare to find at any other popular tourist destination on earth. Providentially, with all due credits to Pakistan armed forces-the highly improved security situation of the northern areas has proven to be an integral catalyst in boosting the tourism industry of the region.
There was a time when people mostly visited the valley on purpose of rehabilitation but now you find tourists from every part of the world spending the time of their life, admiring the masterpiece of nature and fulfilling the endeavors of their soul with sublime serenity. But despite all these emerging positives, there is a growing fear amongst the warmhearted people of the valley and very surprisingly it is the fear of privacy and consent breech.
Recently, Ariana, a local Chitral girl who is also known for her notable appearance in the song Pareek by Coke Studio Season 11, recently published her video message on a prominent Facebook page in which with utter innocence, a young Chitral girl can be seen complaining about how local as well as the foreign tourists take pictures of them without enquiring about their will.
She says that tourists are most welcome by the people of Chitral to explore and learn about their very rich and unique culture but meanwhile they should also respect their fundamental rights of privacy and consent while taking pictures with them/of them.
Here is the link to her original video
This beautiful girl Ariana from Kalash region in Pakistan has a message to share. She is requesting tourists to show some Respect to the people in her area by not photographing them without request. These Kalash people have very rich Culture and History and we really need to have some ethics while visiting their communities. Consent is important when taking pictures.

Posted by HUNZA on Tuesday, April 16, 2019
People have supported her stance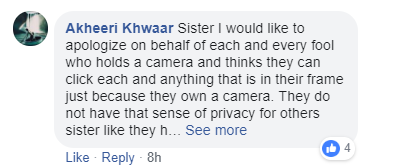 Right to private space must be respected!

Hopefully, the Visitors are now informed…

Today, we live in a time where our planet has become a global village, people are mobilizing, traveling and exploring at a frequency like never before… The yearning to discover the diverse cultures and experience the unforgettable dwells since forever in human nature. But, this ardor shall always encompass the rights to privacy of every individual we come across.
There is no surprise in knowing why the subject of consent and privacy is still very eagerly debated even in the first world countries; although we have ample laws in almost every country of the world to safeguard these elements. But the fact of the matter is that no matter how many laws and policing we keep upon such matters of serious importance, at the end of the day, it is us who are to acknowledge our moral duties to respect and honor the rights of privacy and consent of our fellow human beings…