The word feminism is the one which many people avoid relating themselves to. Like there are tons of female celebrities who would rather avoid being related to the feminist clan and many other people too! Because of the collective hatred that the world has started towards this term.
But if you see, the term was coined a century ago; when women were not allowed to cast their vote. These were the women who educated other people how they are equal human beings and their vote matters too. Since they are equally contributing to the economy! So, the word "Feminism" is actually, equality of men and women in opportunity, economy and basic human right.
Well, in the wake of that, tons of women still struggle with very basic things. Such as the #MeToo campaign. But even after all the struggle, women are asked to share the evidence of the harassment.
Humaima Malick just shared her experience last night where she stayed in a hotel room and the breach of her privacy took another toll!
This is what she wrote;
"I am sharing my experience because I think its high time when i should come forward and share my experience against harassment and how an educated class also chose to ignore it and take such important issues lightly. @the_nishat !!!!"
She said that every woman working outside the entertainment industry is respected. But it's actually hard for people to respect the one who's working in this industry.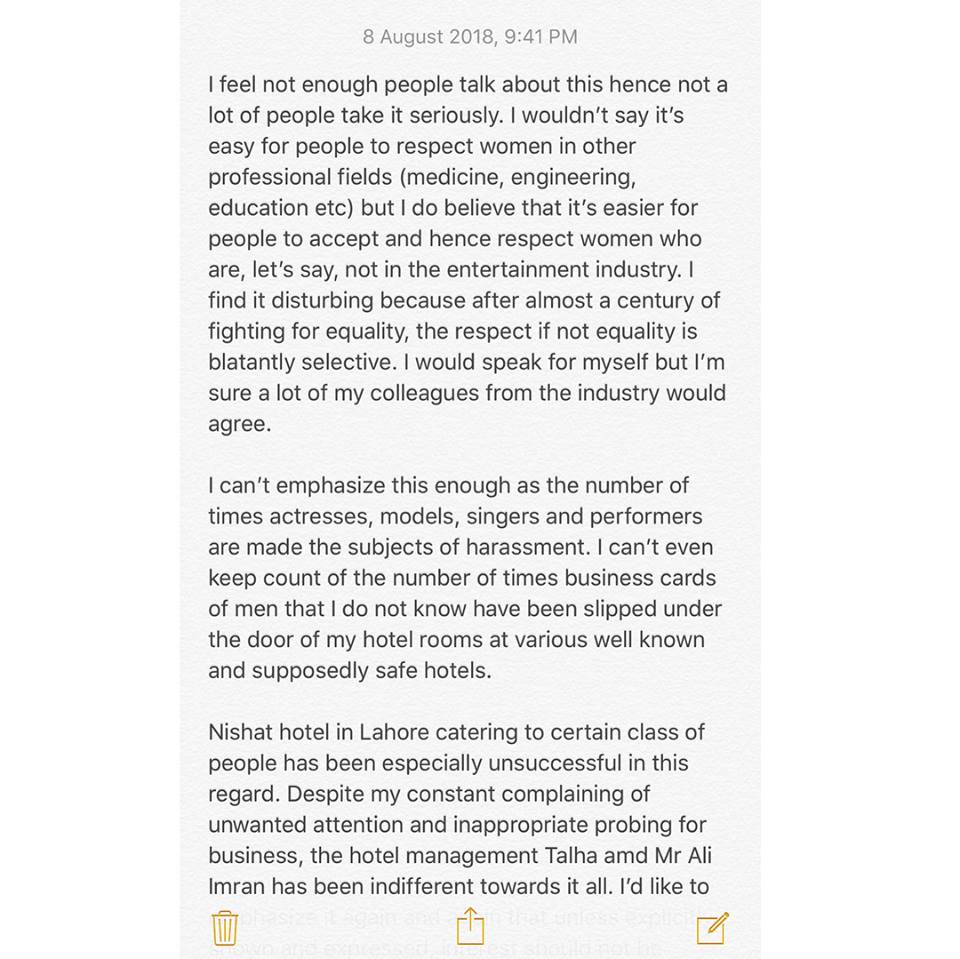 She also said how this has been a practice of people sliding their business cards in the hotel room of actress!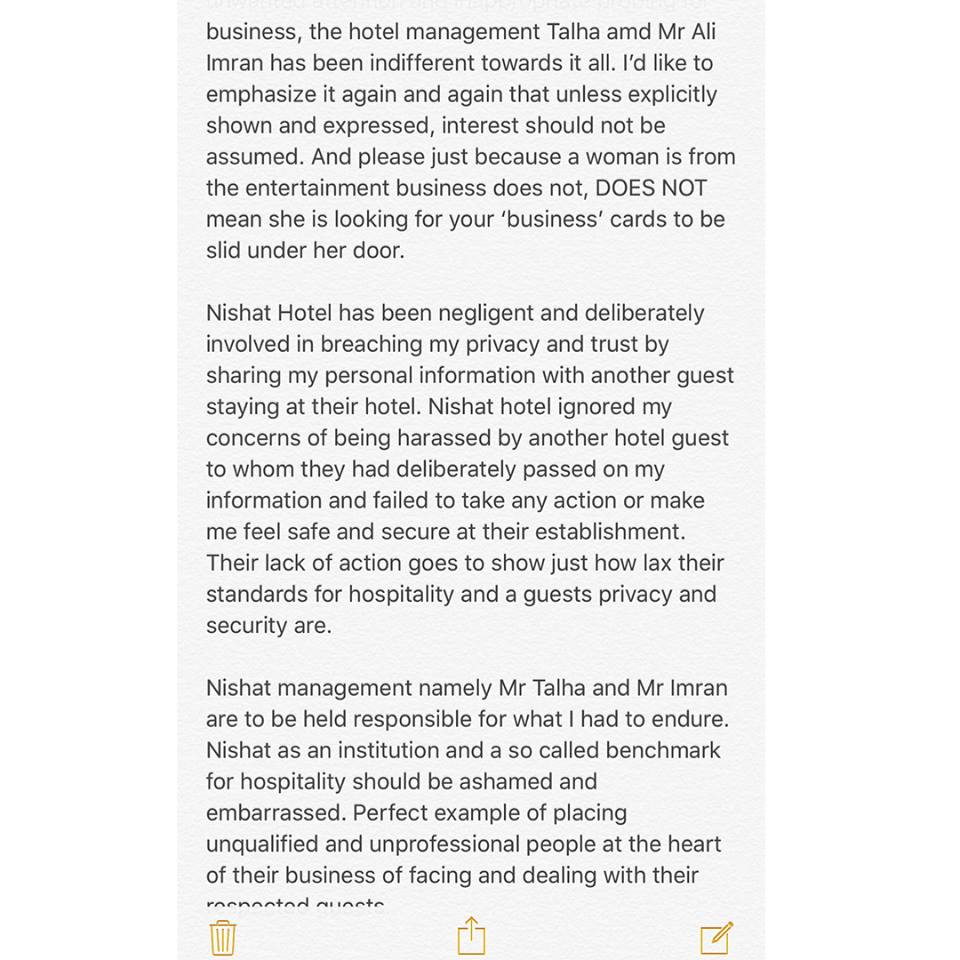 And obviously, how would anyone know about the personal details of the actor/actress apart from the hotel management?!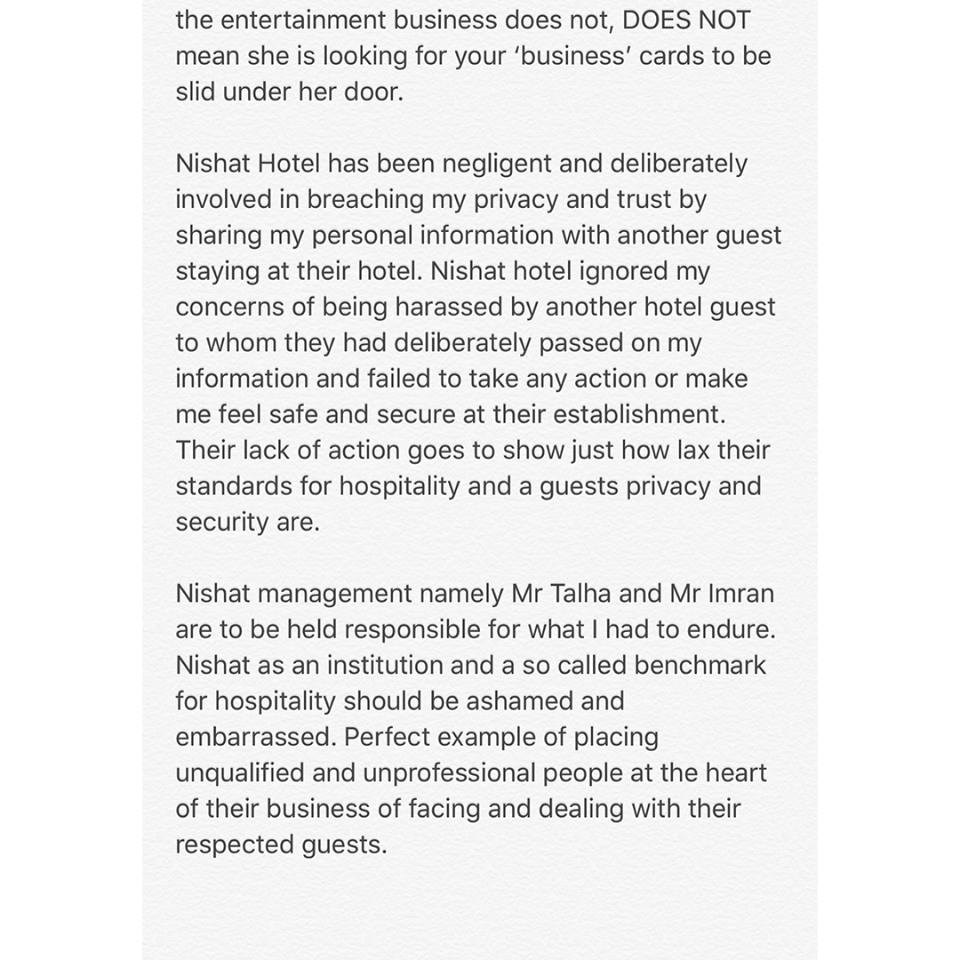 Oh yes! Consent is taken for granted
So, Humaima was just found out by a guy like many others. Who are just out there to protect women and just be there for them. Bhaiya ek kam karo; ap na rehny do!
Humaima did a great job for calling out on all these guys who feel it's okay to comfort women without even having them asking for it.
"Evidence of the harassment I had to endure at Nishat Hotel. Be aware if you lose a loved one and someone dies in your family while staying at Nishat – you cannot cry in your room otherwise people might drop business cards. @the_nishat also haha they have posted my pictures without my consent to get some free publicity wow !!"
This creep who constantly texted Humaima, thought it's okay just because he was staying in the room beside her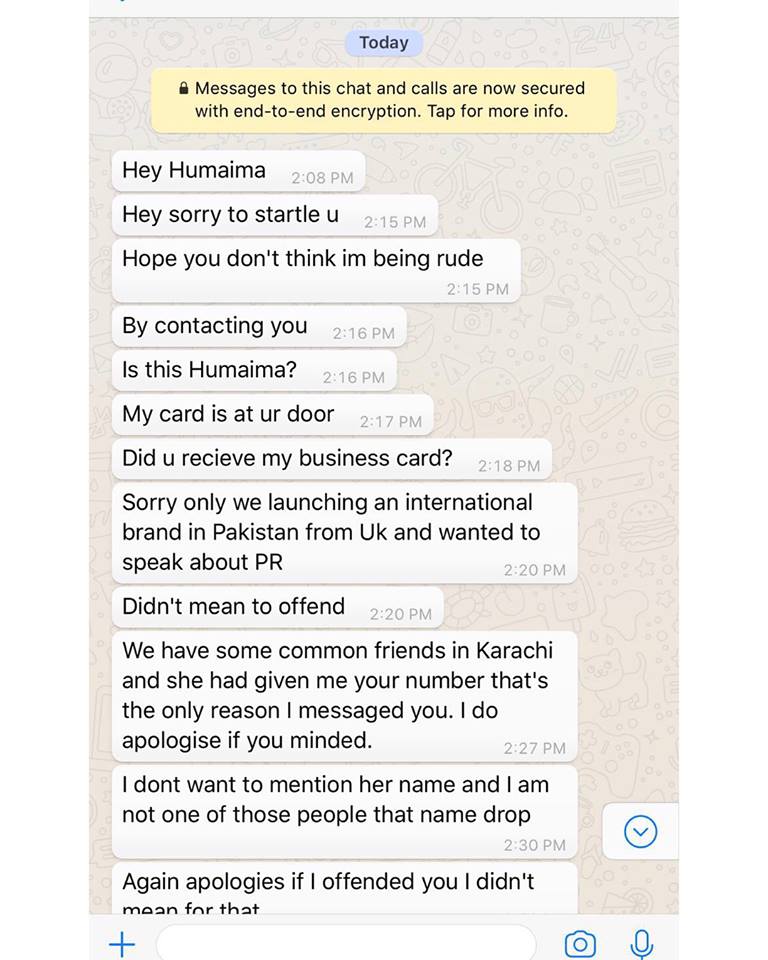 A creep calling himself "Not-a-creep"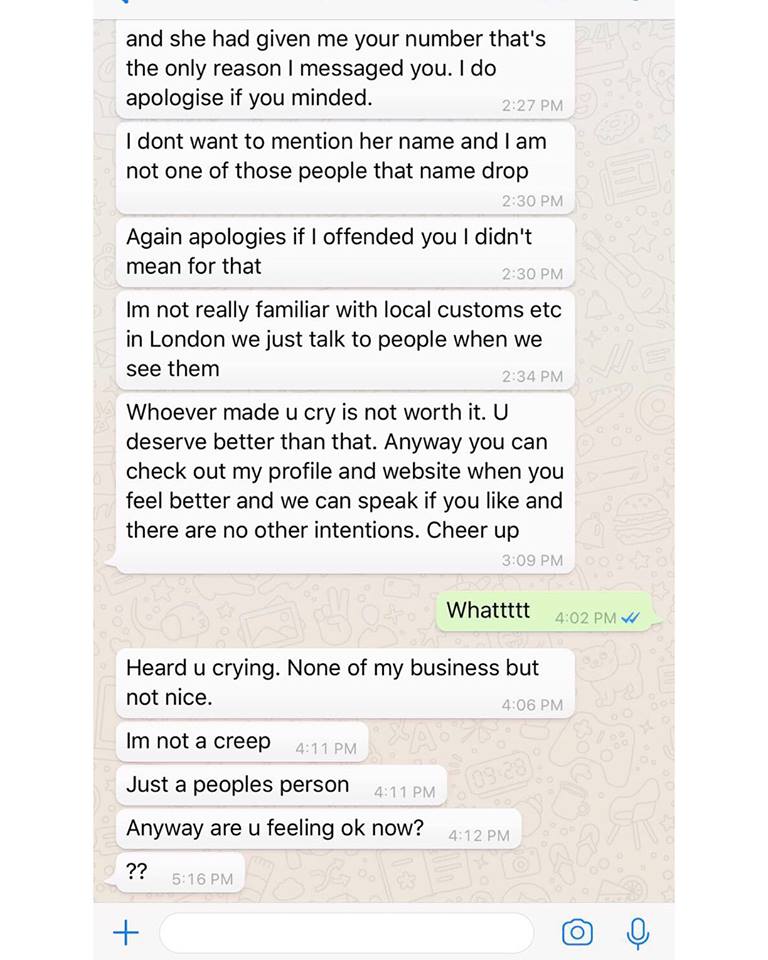 WOAH! Such blatant stalking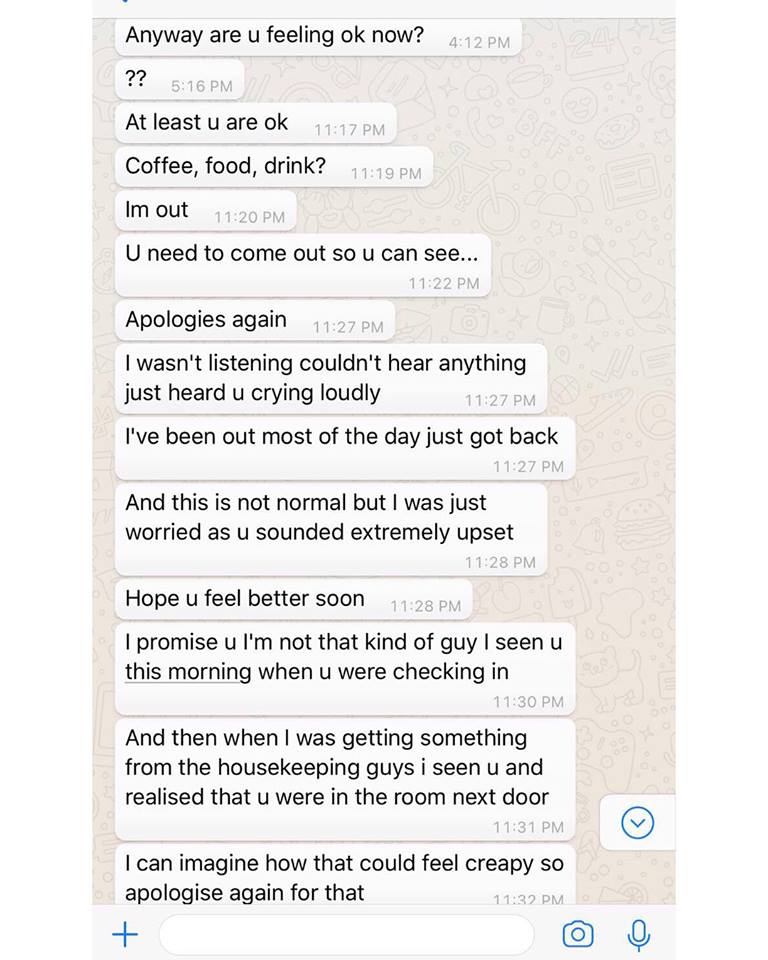 Yes, exactly that's not your business boy. Not AT ALL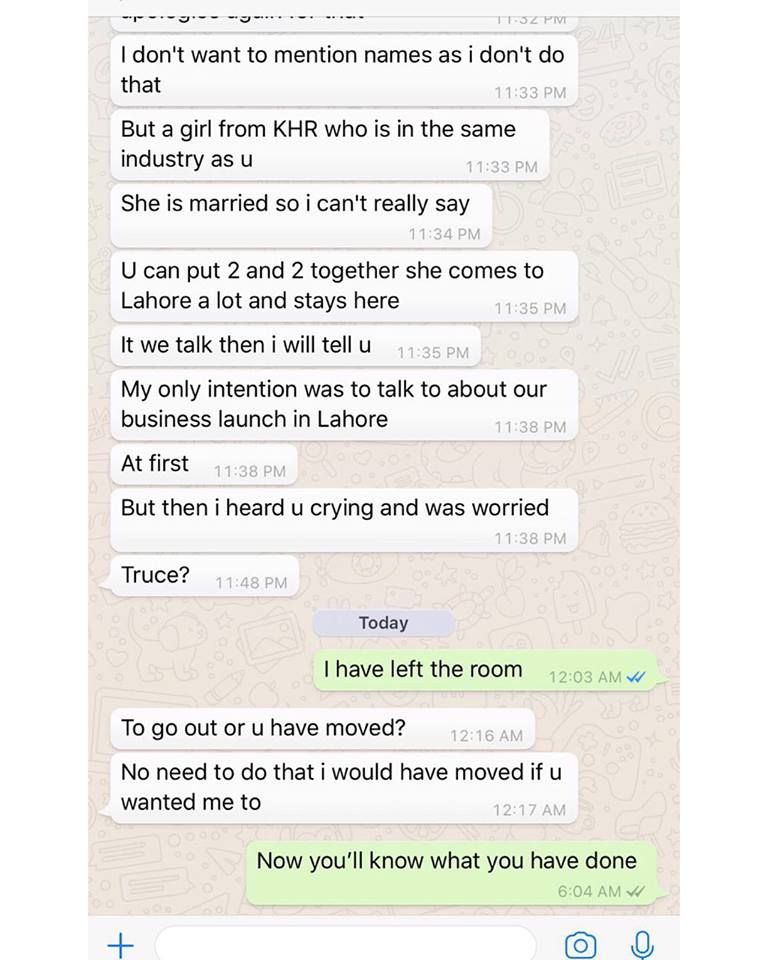 It's good that she shared the screenshot and not letting it loose
Woah! Let's see if Nishat group is doing anything for such breach of privacy. Nishat has to cope up with this, otherwise, this is not a good call. They have already lost their credibility over the safety of other customers.
What do you guys think?