Every year, Aurat March stirs controversy among the masses. The slogan of "Mera Jism Meri Marzi" irks many. In this scenario, Khalil Ur Rehman admonished with his abusive language to Marvi Sirmed on a live television program. The digital brawl brought several perspectives of the hoi pollis across Pakistan. Among others, Pakistani singer Quratulain Balouch also tweeted and asserted her point of view.
What actually happened?
Writer Khalil Ur Rehman on a live TV show abused Marvi Sirmed. He started off saying, "When the court has denied the usage of slogans like 'Mera jism, meri marzi' (My body, my choice), then it hurts me deeply when figures like Marvi Sirmed use these slogans."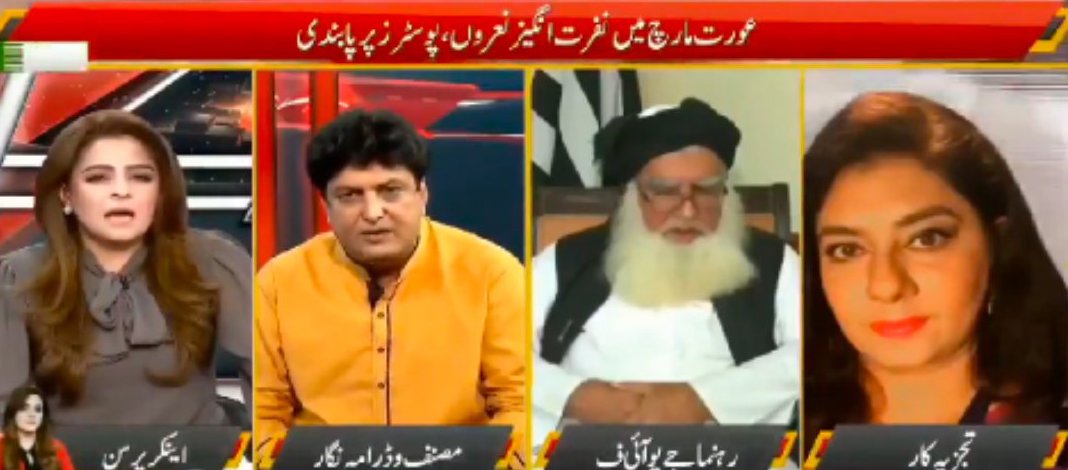 Thereafter, Marvi Sirmed interrupted him and chanted, "Mera Jism Mera Marzi". In response, Khalil Ur Rehman said, "Tere jism men hai kya? (What is in your body) Don't talk in between. Thookta nahi hai koi tere jism per (No one would even spit on your body). Shut up you b****. Beech men nahi bolo (Don't talk in between)".
After the controversy, a huge debate on social media and television media was stirred. Many reacted in support of Marvi Sirmed and many in support of Khalil Ur Rehman.
In between the famous singer, Quratulain Balouch tweeted and turned the guns towards her.
Also Read: Quratulain Balouch Got Bashed On Calling Imran Khan An A**Hole
Is Quratulain Indirectly Supporting Khalil Ur Rehman?
Real feminist gets down to work and wastes no time shouting for her "rights"

— Quratulain Balouch (@Quratulainb) March 4, 2020
Now the question arises, what does she mean? Is she supporting Khalil Ur Rehman? Or is she being, practical and saying what is right as the digital debate won't do any good to the cause of women empowerment. However, at this stage, her tweets seem to be quite controversial.
"Real feminist gets down to work and wastes no time shouting for her rights." It clearly depicts she is not siding with Marvi Sirmed. 
Her tweet made a huge hue and cry on social media people reacted in following manners.
Is it?
Well that's disappointing!

— Nida Kirmani (@nidkirm) March 5, 2020
Was her success is a result of shouting of women?
So much wrong with this – where do I even begin? Your success is built upon a foundation of rights that women before you struggled for. Your success is because of the women who shouted for their rights which are now yours.

— Naveen Rizvi (@naveenfrizvi) March 4, 2020
The girl seems quite irked by Quratulain's tweet
okay so get down to work? get off twitter howboutdah

— bears beets battlestar galactica (@sooploops) March 4, 2020
Why not she?
OH GOD NO, NOT YOU

— nuwanda (@manalkhan07) March 4, 2020
Is she right?
You wouldn't even have known what a "real feminist" was if it weren't for women around the world who had taken to the streets and "wasted time shouting for their rights" #AuratAzadiMarch2020

— Erum Shaikh (@shaikherum) March 5, 2020
Well, it seems, Quratulain is indirectly supporting Khalil Ur Rehman. Her feminist fans are quite disappointed with her tweet. The clarification of her stance is yet to be observed.
The question arises here is that the digital debate and shouting aren't serving the cause of women empowerment? If it's not then the three waves of women in the west are of no use.
What do you think of Sonam Kapoor's recent tweet? Tell us in the comments section below!