Well, there are many actors and actresses whom we have seen getting married, after their "hawt" chemistry on screen is loved by all. To name a few, Danish Taimoor and Aiza Khan, Syra Shehroz and Shahroz Sabzwari, Aiman Khan and Muneeb Butt, and many more! All these actors had amazing chemistry on screen and decided to put that chemistry in real life and tie a knot on it!
So, all these real-life couples serve our eyes with the beautiful photos of their kids and their travel photos are just AHMAZIN'! Remember the time when Aiza and Danish took their kids to Disney Land? Such a happy family, MA MA!
Well, there are many other celebrities we aspire to see together. And we just got to know that it's not only us who wish such a thing but their friends and family too! Ahem ahem, enough of suspense.
Also, in retrospect, we just realized how good Yasir and Iqra look together in their Instagram photos!
They share the most candid moments they capture together. Like this one, Iqra being her true herself with no fancy makeup and hairdo. And Yasir being a good friend, takes selfies LOL!
Cuties they both are! This reminds everyone how we all need a friendship like this. <3
And here are Yasir's choti choti ankhein and his choty choty sapnay! AND (chota sa ek sapna) *coughs* Who's that chota sapna? Can you guys spot it?
Now, this a photo which Yasir posted and was cherished by EVERYONE! By his friends, family, and fans too! Isn't it good?!
Let them deny all they want but when the evidence is served in a plate for you, you can't help but hope for good! Look at them, they sure look good together they enjoy each other's company and everyone around them is happy for them.
Just like Asim said, "Yeh kya horha hai bhae" 😉 Thanks Asim for throwing subtle hints!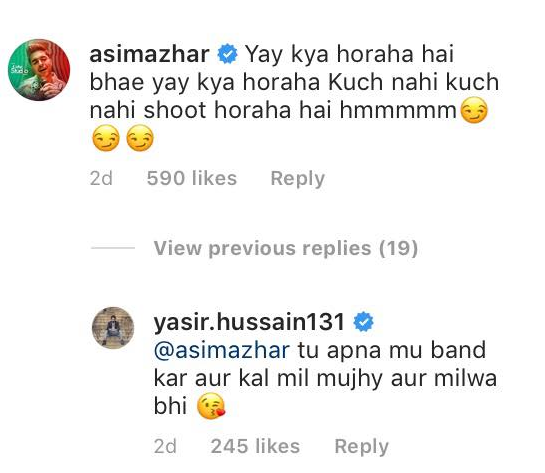 Hayeee! The newlywed bride of ours Aiman commented and we are more in love with her!

MashAllah MashAllah! They say if you get the blessings of a newlywed couple, chances are you would get hitched soon! So, after Muneeb too gave his blessings, should we expect something? Hmm? 😀
Yasir, you can't make everyone shut for long! Hehe!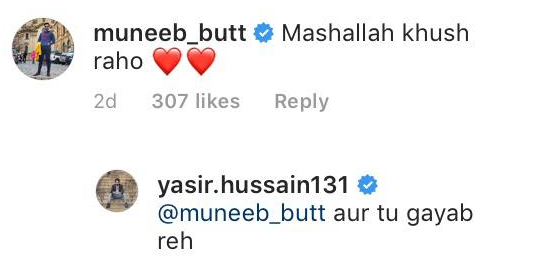 But this troll was schooled by Iqra in the most savage manner possible! Kal ki bachiyan? Yeah right! *rolls eyes*

Sabash Iqra! Sometimes it's important to give these trolls some verbal chapairein. No?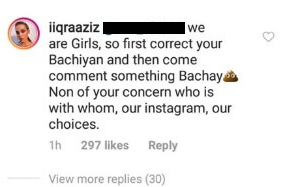 However, all the evidence are clear and we just wish them all the luck in the world and can't wait for them to announce, (if there is something) *fingers crossed*
What do you guys think about this? Let us know in the comments below! Cheers, 😉