Canadian born Pakistani film and TV actress, Armeena Khan, is one of the finest actresses of Lollywood. Having received a Lux Style Award, a Hum Award, and a Nigar Award nomination, Armeena was the buzz of 2016.  From starring in the hit Pakistani film Bin Roye as a supporting actress to making her debut as a lead actress in Janaan, she successfully proved her potential in Pakistan's entertainment industry.
Being prominent in the world of glitz and glam is never easy. In fact, it has never been easy. Armeena Khan is not just beauty with brains, she also knows how to take a stand for herself, and she has proved this on a multiple occasions.
As much as ordinary people have the right to privacy, so do celebrities. However, some people are just obsessed to get information out of celebrities. They want to know everything about them and have a desire for more information.
Recently, the Janaan actress came across a comment on her Instagram post that invaded her privacy. This raises the question- why celebrities are expected to live their lives in the open? Moreover, it is downright unfair to expect them to give up their rights to privacy as they sign up to become a public figure.
Armeena Khan once again gives a shut-up call to a troll
Bear in mind- Armeena is not the kind of person you would want to mess with. More so, she is not the one to let the Internet trolls get to her. She knows how to fires back!
Stepping over the boundary, troll comments on a recent post of Armeena asking if she is carrying a child. More specifically, he says, "Are you pregnant?"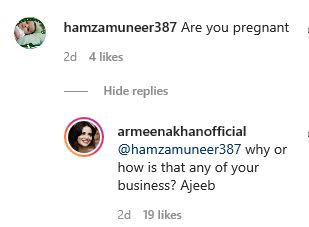 We absolutely love her for always speaking out when necessary! The actress made it pretty clear that her personal life is none of public's business. In fact, she also addressed the fact that just because others announce their private matters does not mean that she will too.
It is high time this had to be said out loud, not many people acknowledge the violation of privacy. Celebrities are human too and they too have some boundaries set.
Armeena recently tied the knot to the love of her life and has taken a sweet break from acting. But rumors had it that she'll soon make a come back. Let's hope to see her soon on screen. As she's very specific with about her projects and films.
What do you think of this story? Let us know in the comments section below.