Just recently, when the UNwomen started this initiative of "Jahez Khori Band Karo," there was a storm on the internet! The campaign was backed by many famous celebrities and everyone stamped their palms with the text "Jahez Khori Band Karo" and the photos were made to go viral! The initiative itself was powerful enough to start a heated debate, that how dowry is so common in our region; not just in Pakistan but also in the whole sub-continent.
It is an accepted and acknowledged fact that people here are less aware of their personal legal rights. Be it the matter of giving dowry to the in-laws or hoarding gifts in the name of "tradition" that too by financially burdening the girl's parents.
Speaking of personal legal rights, there is a vast majority of people who did not know the real meaning and purpose of "Nikkah-nama"! It is a contract between two people, in which the terms are mutually agreed by the groom and the bride!
This guy took his sister's side when she asked to read her nikkah-nama before marriage. But sadly, their father did not agree to that fact and said that this is "insulting" for him. The father said that it is insulting to him because a girl reading her nikkah-nama before marriage is not an ethical practice in our culture!
The boy agreed that the nikkah would be null and void if his sister signs it without knowing what's written in it!

Guess, what! He was bashed for talking against his father but was not tapped at his back for standing for his sister.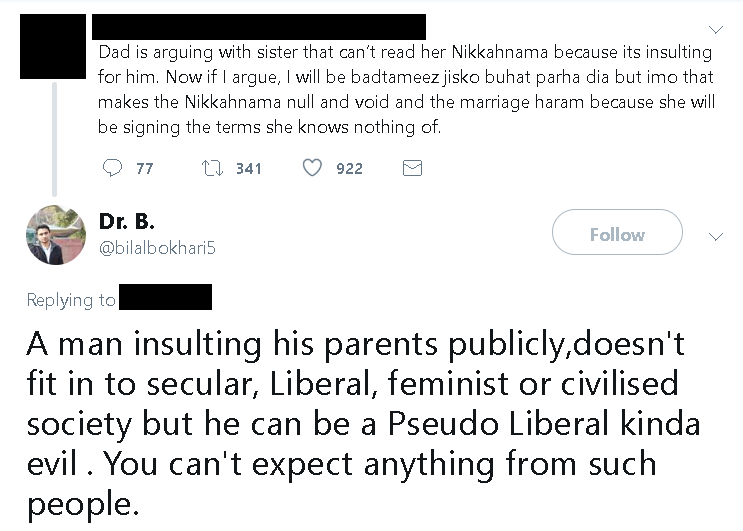 He, very maturely, handled all the hate and said that all he wanted to do was, to give his sister the freedom for her legal rights!

Nevertheless, the boy got a lot of support from all the women of substance!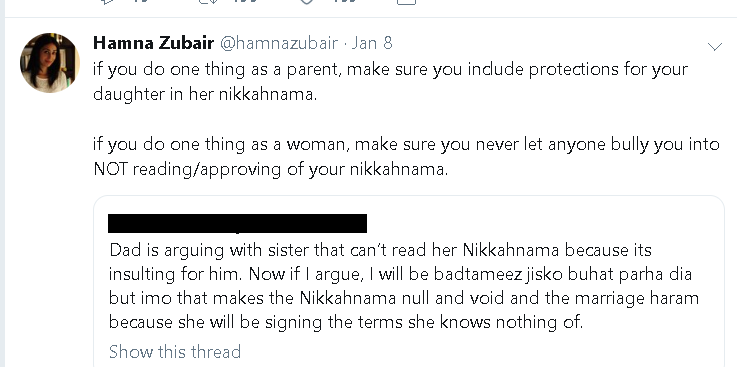 Even Nighat Dad told him that his sister should mention all the jewelry and gifts in the nikkah-nama too!

Yes, indeed, most of the issues come after the nikkah- nama is vaguely signed by the couple. And this usually happens by not giving the woman the right to divorce and not mentioning her right on the "haq-mehr" given to her!

Speaking of the right-to-divorce in the nikkah-nama, this section is separately mentioned and every girl is given this right in Islam. Nikkah-nama librates every woman, it empowers a girl as a wife. It is, by no means, a paper that bounds women.
Have anything to add to the story? Let us know in the comments below!