Celebrity lives have always been public property and they are slammed by everyone no matter what, but its high time that celebs respond to such trolls and show them their place. Recently, actress Iqra Aziz did that and after that, the model Rabia Butt slammed a troll.
Dua Malik began her career as a singer and her first song was 'Ranjhana' which was a solo song released back in 2013. This song became a hit and it earned huge fame and success. The audio and video of this song became viral on social media.
She has sung many songs for the TV serials of Pakistan including OST of TV serial 'Ek Pagal Si Larki.' After getting success as a singer, she started hosting on TV. She worked as host of morning show 'Sur Saath Saveera' of Express Entertainment.
The sister of Humaima Malick and Feroze Khan also starred in an A-Plus drama serial Khafa Khafa Zindagi.
Recently, Malik shared a picture with actress and TV host Shaista Lodhi where she was wearing a hijab, captioning it, "Forgive my swollen face. Just running out of sleep being awake with my passion ? this is for women empowering each other ! @iamshaistalodhi you go woman!"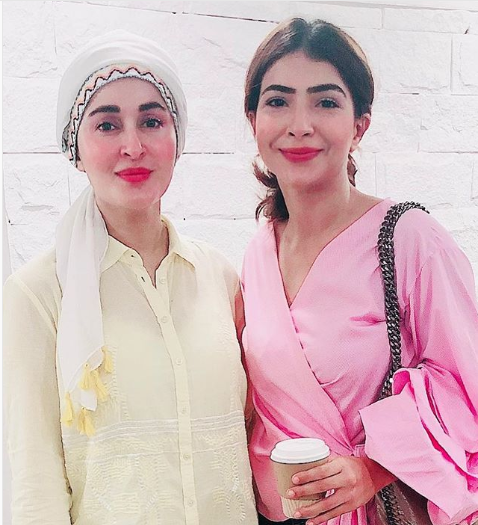 People did not take too long to comment under the above picture writing, "What is the purpose of this kind of hijab? Don't make your deen funny in front of others."
To which Malik responded, "I want to meet you in person and tell you what deen really is! It is not disgracing people in public miss keyboard molani."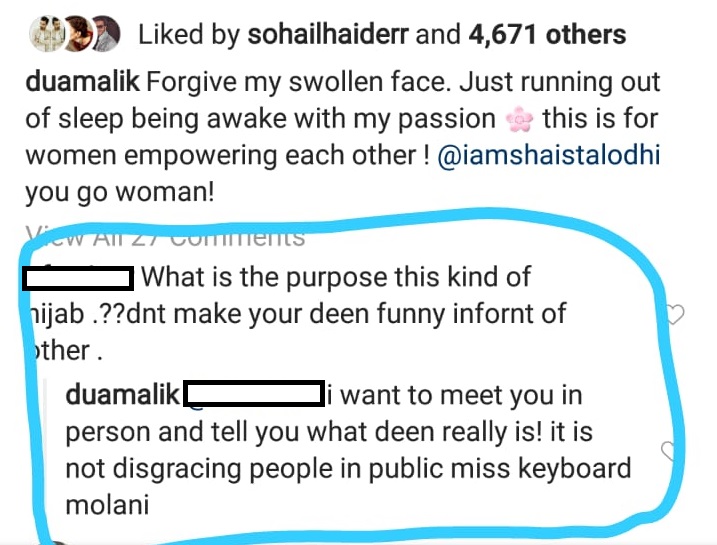 Since Lodhi has always been under scrutiny of the masses, no one spares her and people don't miss a chance to troll her. She almost got banned from doing her show.
What we love over here is that Dua Malik supported Lodhi and gave her troll a shut up call, it shows that even after being celebs, these people are standing by each other regardless of what happens. This shows unity!
It's just sad how celebs are slammed by the people and many just don't seem to realize that celebs have a life and they feel the same as you and we do.
When she hosted a show where she invited Veena Malik and mocked a wedding, after that, she was banned by PEMRA.  Also, she was all over the headlines when she got married for the second time, and people had all sort of question about her first marriage.
Our question here is that why can't we live and let live? If you don't like someone's page, you can easily unfollow them, correct? Anyway, let us know if you think unlike and share if you have anything more to add to this story!
Read Also: MEHWISH HAYAT CLAPS BACK AT HATERS WHO QUESTIONED HER MORALS