Band, Baja, and Baraat are finally here for the bride-to-be Iqra Aziz and groom-to-be Yasir Hussain. The festivities have begun and this couple has gone all out sharing pictures, welcoming everyone along this journey to their big day; from Mayun, Iqra's bridal-henna session to their Mehendi. All these festivities so far have been nothing but sweeter than honey.
Here are Iqra Aziz and beau Yasir Hussain ubtan-fied.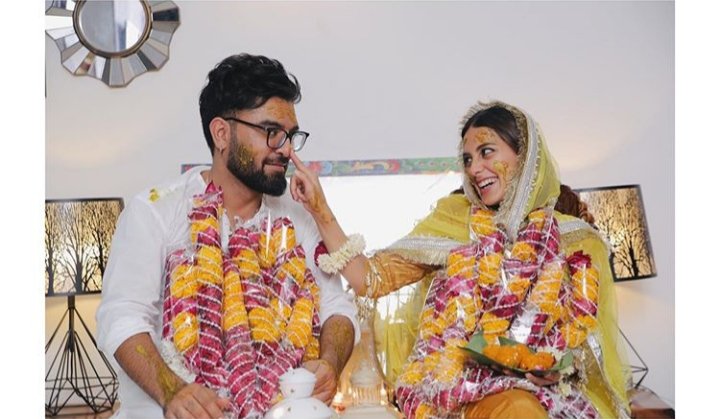 Right off the bat, these laid back cuties personified the element of 'fun' during the entire process involving functions leading to the main event. They even translated their joyful energies onto their wedding cards.
Often times both the bride and groom are too consumed in looking a certain way for the pictures. Although looking prim and proper is understandable, but having fun and staying worry-less should be the top priority.
Iqra-Yasir Mehendi Bash!
Coming back to these love-birds, their Mehendi function was nothing short of a party where again, both Yasir and Iqra had a blast. Simply adorable! They have surely set the bar for how the bride and groom should have fun. The candid pictures from these events become a treasured memory, where smiles aren't forced and no awkward moments are created.
#YasirHussain and #IqraAziz Dance on their mehndi pic.twitter.com/RfWhPm4Vwf

— Qaisar Kamran Siddiqui (@QaisarCamran) December 26, 2019
However, the Mehendi function did attract trolls on Twitter; which is quite expected, considering this couple has been getting flak since the day they made it official to the world. Yasir and Iqra could easily be the most hated Pakistani showbiz couple. Of course, where there is hate, there is love? At least for these lovelies.
Bride-Woes: The 'Zabardasti'.
Iqra much like many brides who are horrified at the thought of publicly forcing them to dance. For Iqra it was her sister-in-law that charged towards her head-on in bhangra and asked Iqra to join. Poor girl did a thing or two and had to decline.
Here's the video. 
Most chichora couple of the year ??#iqraaziz #YasirHussain #HareemShah pic.twitter.com/BSPHuI5QOC

— Choco (@choco_funkar) December 26, 2019
The debate – Cheap or pure bliss?
Live to the fullest, much like Yasir and Iqra – says a user. 
In a world full of Hmaza Ali Abbasi who tries to pose a person he is not, who pretend to leave showbiz for religion when he is actually doing it for Politics, Be like #iqraaziz and #YasirHussain be real, live your life to the fullest, fek simplicity, B vulgar and be a chichora ? pic.twitter.com/c5TZW5xWNp

— rai_farhatullah (@rai_farhatullah) December 26, 2019
The celebrity couple comparison. To each their own? No harm in having a blast at your own wedding. 
In the world full of people like #IqraAziz & #YasirHussain be like #HamzaAliAbbasi & #NaimalKhawar. They kept their relationship away from all kind of filth/socialmedia & ended up on announcing their Nikkah…
Mashaa Allah… ? pic.twitter.com/Ggo9ZggpCl

— Mian Omer ?? (@Iam_Mian) December 26, 2019
Trolls trolling away. 
Yasir hussain chose to wear her mother's wedding dress on his mayon???#iqraaziz #YasirHussain pic.twitter.com/Sw1Tqpv4sP

— Fizza Zaidi (@fizzazaidi1999) December 26, 2019
Yasir and Iqra's mehendi was a star-studded affair, with couples like Muneeb & Aiman, Sajjal & Ahad, and more attended. 
یاسر حسین اور اقراء عزیر کی مہندی کی تقریب، اہلِ خانہ سمیت ساتھی فنکاروں نے بھی شرکت کی #iqraaziz pic.twitter.com/sT8cbUaGMa

— Daily Basharat (@Daily_Basharat) December 27, 2019
Not for long. It's a small affair! 
Ab inky shadi functions kitny months tk chalty rahen gy? ?#IqraAziz #YasirHussain #iqraaziz #زھرا pic.twitter.com/U1rDPyHf7J

— Sɘɭʆɩsʜ Sʌqɩɓ ✌️ (@SelfishSaqib) December 27, 2019
Well said. There is nothing to gain from bashing someone's personal life choices and decisions. If you cannot be happy, it is best to stay quiet!
I can't understand why people are scorning the beautiful couple
Its their happiness and they the right to enjoy it fullest without being judged
When will we start acting as mature?#iqraaziz #YasirHussain pic.twitter.com/sTL6zzLMrS

— ? (@JanbazHaider) December 27, 2019
Haters aside, nothing can get to the eternal happiness that they feel within for each other. It shows in their eyes and the way they chose to celebrate their wedding festivities. It is truly beautiful! From the rumors of their wedding in December to it finally happening, we wish them the best of luck.
What is your opinion on this? Comment below!