Living in a world where people wake up to check their phone as the first thing in the morning, our lives are so consumed by the world of apps and the internet that people have run out of options to do things when there's no wifi around. It has become a necessity more than a useful tool for information and connection. According to research, more likes on Facebook and texts from a friend releases the same amount of dopamine as a hug does!
But it has an adverse effect as well! What happens is that on the same post where people are appreciating, there are others who do not like what you do… There are people who spread hatred on the internet and are very okay saying hateful and mean things to random people who come across them. Cyberbullying has caused more harm to mental health in general than it has done any good! Nadia Hussain is one of the versatile models of Pakistan who just came out to give a shut up call to all her haters. With the internet, all these celebrities face more hatred than love!
But here's what went wrong and has shocked many of her followers!
It all started when Nadia Hussain uploaded a picture of her children on Eid and her followers started bombarding the picture with mean comments that literally triggered the  "mamta" in Nadia Hussain.
To get back to her haters, here's what she had to say to a person who later on deleted their comment…

Whoa…

Damn, woman…..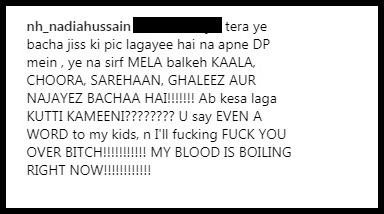 UH-OH…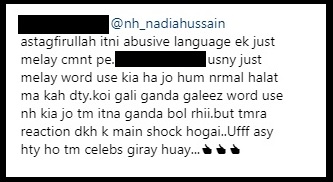 Indeed SHOCKING!
It went on for quite a while…
And at last, to end it all; here is her final note.
However, on the other hand, many supported her reaction as that's what any mother would do if her children were being made fun of…
All such cuss words where people have no filter from there head to mouth! This could lead to many bad consequences! Nadia shushed all of them by saying "Jab bolo acha bolo, warna mat bolo." Though Nadia was very appreciated for speaking up by a few of her fans and followers. The case with cyberbullying is that the effect it has on the person tends to get very serious.
There are people being put through severe hate by the internet and majorly the targets are girls. There are girls whose self-esteem is put to the test by the ratio of likes and the kind of comments they get. This needs to stop! People need to keep a check on what they say and should be confronted because this is not okay.
Do you think what Nadia did is right? Let us know in the comments!