"The teacher slammed a huge book on my head and pushed me out of the class. I fainted right there. I have never been back to school after that," says Uzma Rao.
A person's childhood is one of their most crucial phases of life. The stress on education, or shall we say, the formal education one gets inside their formal educational institutes has immense importance more than their self-learning. Some of the most famous and intelligent people around the globe are college/ school dropouts, yet we never hesitate to shame people who accept that they have never been to school.
Uzma Rao, Founder of Native Rock, promotes and represents music & musicians in Pakistan. She is also the mind behind the rocking Levi's Live Sessions. Uzma has always brought artists and music lovers together and hosts regular gigs. After being in the limelight for her amazing music PR journey, she shares her stories and experiences with us. Her strongest message is to the bullies and their victims.
Over the years, she has learned that bullies don't only exist in schools but throughout peoples lives. She says,
These people are everywhere trying to show off their power – at work, in relationships, in film, TV and the music industry; friends and families too. There is no stopping them. It's a disgusting and nasty habit to find pleasure in degrading others. They think its okay. It's not! It's not fair!
Born in Saudi Arabia, Uzma and her family moved to Malaysia when she was five where her father was a professor, "The best years of my life" she says. According to her, her childhood was just those years spent in Malaysia, where she had everything; a complete family – a life full of love and joy, "It was a perfect dream. I would give anything to go back to those wonderful years".
This took a turn for the worse while they were visiting Pakistan during their summer break; her father fell ill and was diagnosed with stage 4 cancer. He passed away within 4 months. Uzma's mother who was just 35 then was left with four kids to take care of. They moved to Sargodha to live with her grandparents.
Uzma had already missed a year of school during this ordeal; she didn't know how to read or write Urdu at that time. She became an easy target for bullies in her school in Sargodha, "With a mess of a life I was trying to study," she says her school life was a nightmare, "The things they made me do and did to me. I tried to focus on my studies but I was made fun of how I spoke because I was just learning Urdu, nobody wanted to be my friend, I was always the butt of every joke- there was an immediate dislike towards me from the first day," she explains.
Because of her base in Malaysia, she was way ahead in her studies, "If I shared my ideas and knew the answers to everything, I was simply told to shut up; every other day somebody would 'accidently' spill juice on me or something of the sort. They would lock me in the bathroom. Call me names. I was pushed and shoved all the time- somebody was just always laughing at me," she vividly recalls.
She wishes she had confided with her mom, "It was stupid of me to not tell her right away. She was going through so much already since my dad's passing. I assumed I'd give her more pain and stress. I did once find the courage to go to the principal's office and explain what all was happening but I just made more enemies. I constantly missed my father," she says she was just 12 years old and was trying to remain strong. "At times I would just burst into tears during class".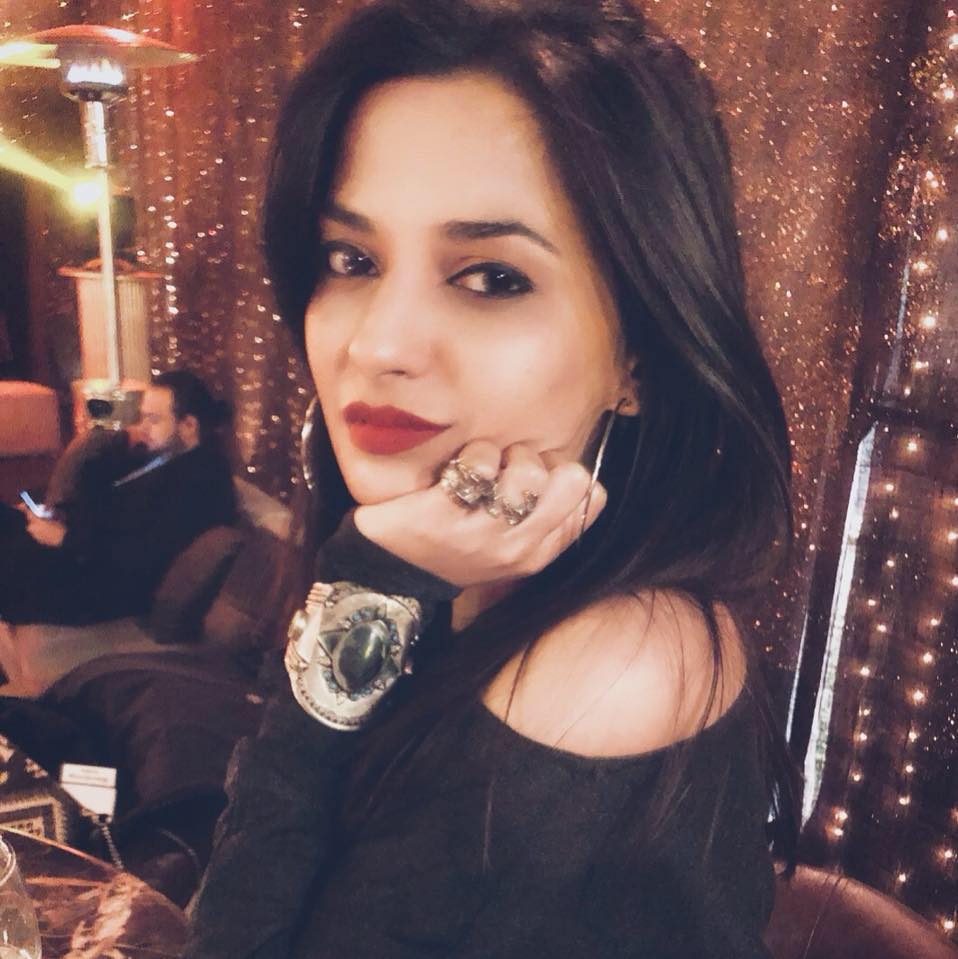 The constant mocking and humiliation at school took a toll on her studies, "During one of the final exams I just sat there and handed out an empty paper with some random drawings on it." That was not the end of it. She decided to move to another school but things got worse. "I remember just wanting to make one friend at least. I seriously started to think there was something wrong with me, I was 14 by now", she explains.
"Children who get constantly bullied at school by their classmates, their seniors or teachers they stop having fun you know. They act out! They are sad and scared, angry and revengeful; it puts them under depression and sometimes makes them suicidal. Everyone deals with it differently. For me, it was this terrible helpless kind of feeling all the time.  I didn't know what to do, who to be or how to fight back. I got used to it; I gave up and gave in. It eventually shaped me into a person who didn't know how to stand up for herself for years," she highlights.
She says that she tried her best to come on terms with everyone, "I would bring brownies, make friendship bracelets, bring gifts, try to please them somehow and just be accepted because as a human being I was completely rejected. If everyone was part of a project or conversation I was always ignored," she recalls a very painful memory of her birthday when she invited everyone, "I planned it months ahead – I spent days making the birthday invites, with cut-outs/ glitter, envelope, and handwritten notes. I got a new dress and new shoes and a really nice cake, there was food and music. No one showed up! I waited and waited," recalls Uzma.
Things that kept her going also landed her in trouble, like her love for drawing, "We were given these practical books to work on throughout the year so in my spare time I completed all the drawings way before time. My teacher didn't believe me, scolded me so much and said I cheated and got someone else to do it for me" Uzma remembers. She was the same teacher that hit Uzma with a book on her head.
"That day, when the teacher hit me, I fainted. A cleaning lady at the school helped me get up, I went straight to the principal's office called my mum and told her everything. I refused to go back to the class.  I just sat there, done with everything and waited for mum to come take me home," Uzma says that was it for her.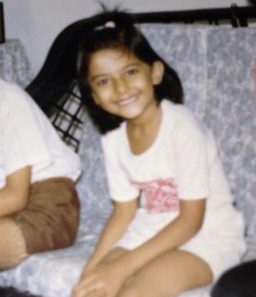 After they moved to Lahore, Uzma would stay at home reading books and listen to music. She also finally made a friend, Zara Francis, "My first friend after years, who then moved to Australia after a few months. The irony," but school was always at the back of her mind, "I wanted to continue with my studies. I did try again. Twice!"
She tried to go to private tuition in Lahore, "By now, I had already taught myself how to read and write Urdu and I had discovered the internet. Started these classes, gave hours trying my level best to catch up on all the years I missed out and within two weeks the woman in charge told me 'You won't be able to do it Uzma, you can't'.
She was back home again, accompanying and helping her mother with designing and getting clothes made, "I gained experience on that throughout the years and then later through people and word of mouth, I started to get orders and got into the clothing business myself".
But her love for music never died, "I listened to music all the time! Music was my best friend! Everything in my life had a soundtrack. I was obsessed with the music and musicians from the 80's. I collected various music magazines and re-read interviews and stories. I loved making mix tapes for myself which turned into burning CD's to transferring songs into a USB."
So, how did things change for her? How is she this rock star PR agent and band/artist manager from Lahore and the only one who focuses on music?
When you look at Uzma Rao through her social media lifestyle, you may never guess about her struggles. We only see into her life through the web which is indeed rocking. She hangs out with the most famous people, has the best ideas and is super hot.
Her encounter with our favorite Rockstar Farhad Humayun led her into the music business "We connected over the same taste in music. One song after the other, we were always talking about music. I'd hang around with him and his band while they would jam and make music- I'd just be there with ideas and opinions on the business side of things, he asked me to work with him and that's how I ended up being their PR manager".
Levi's Live RehearsalFarhad Humayun

Posted by Uzma Rao on Thursday, 9 March 2017
After working with Farhad Humayun and Overload for over two years, other musicians asked her to work with them too, "Hence, comes to life Native Rock and that's how it all started".
Her love for music, her never-ending love to investigate and learn got her, her dream job but these things did not come easy to her, she has worked tirelessly for them.
To this day, even after achieving all that she has, she still meets people who ask her to get a proper degree because she won't be "respected or taken seriously if people knew she was a dropout" but again there are many people who encourage and support her too.
About 4 years ago, she gave formal education another try, "I enrolled into basic O levels got the entire syllabus. This time, it just seemed ridiculous. What was I doing? Back in a classroom in my late twenties with kids half my age?" she laughs, "I knew I was only trying to prove something to the world. To just be able to hold a degree in my hand because then everyone will approve? When that thought really kicked in I just got up and left".
"I don't promote this at all.  It's very important I know," though she understands that she has missed out on things in life, "I wanted to study in school, go to college, live that life and have all those experiences. For the longest time, I was ashamed of talking about it and would always avoid this topic. I avoided meeting people, dreading that someone would ask  me which college/university I went too, first I get a reaction and then I'd have to explain" she says but no more, "I'm finally at a comfortable point in my life where for me it's an OKAY!"
Basic education is very important but simultaneously she says there are other things to learn, "I had to learn everything from scratch. I've had to fail a thousand times to succeed at anything. It's not just me there are thousands of people out there who have their own stories and experiences. I know so many people and have heard so many stories where people have been bullied at school and much worse – but everyone has a different way of handling situations. I simply opted out."
Uzma wants to remove all negativity from her life, "Now, I just cut people off immediately who are disrespectful, insensitive, judgemental or rude. I can't deal with that kind of behavior or energy anymore. All I want to say is that, if anybody makes you feel small or worthless, don't question yourself! Walk away from that environment, there are so many amazing people out there who are loving, kind, supportive and helpful. Get into that space and vibe. Life is crazy but beautiful. Put on some music and lead the way."