Our very own Sarah Khan became Mrs. Falak Shabbir recently. The couple shared every bit of their wedding with their fans and follows across the world. The two love birds tied the knot last in a private event.
All events of their wedding had been super fun and colorful for not just Sarah and Falak but entire Pakistan. Everyone just fell in love with them.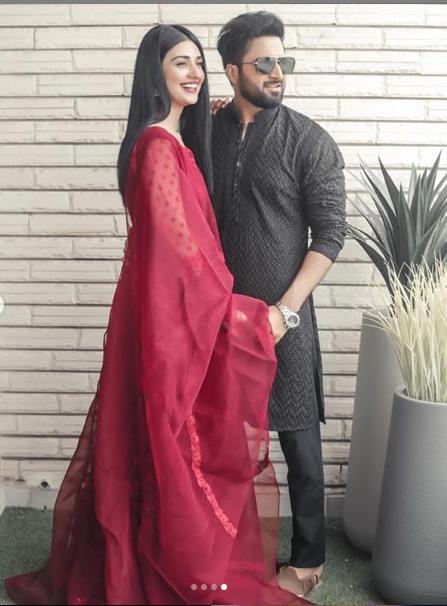 The couple's wedding came as a surprise to many of their fans. There were no juicy rumors about them dating each other or getting married soon.
However, it was a 'chat mangni, pat byah' scene for Sarah. In a video interview, the Sabaat actress revealed why here were no juicy rumors about them dating each other or getting married soon?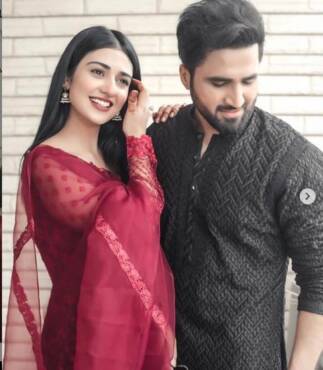 According to Sarah, her marriage to Falak was purely 'arranged'…surprised!!! Yes, their marriage was arranged and my, such a beautiful Sarah and Falak make together, Mashallah!
"Honestly, it all happened just like this. Nothing was planned at all. It was not like, I planned my wedding two or one year ago," said Sarah.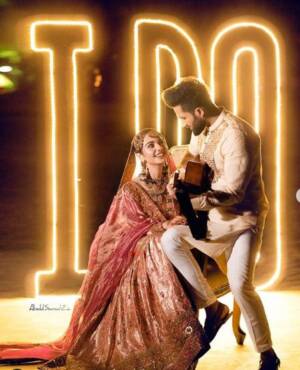 Sarah continued and revealed that Falak sent a proper proposal for marriage and that's it.
According to Sarah, "Rishta aya, Baba ko pasanad aya, mujhe ache lage, unhen main achi lagi aur humne rishta kia aur humne shadi Karli…itni jaldi [The marriage proposal just came. Baba liked it. I liked Falak, he liked me and we married each other]."
WOW! This is called a match, made in heaven!
The Sabaat actress surprised her fans when she announced her engagement while flaunting her diamond ring. She made the happy announcement on Instagram without even naming her beau.
But, then pictures came out of their mayun and mehndi ceremony and the rest is history. We haven't seen such perfect happy images recently.
Watch some of their wedding moments here!
What do you think of the story? Tell us in the comments section below.