The rich culture of our homeland has bag full of festivities of all sorts but the best of all is surely the crazy wedding season of the country. In case you never got a chance to experience it then you're missing out on a lot. However, all these events are incomplete without an amazing photographer to capture all the happy and emotional moments. Men might have had great skills in that department but now the tables have turned and it's time for the women to rock and create a story with their remarkable skills. Some of those credible female photographers are listed below to give your wedding the fairy tale touch. Plus, none of them charge a lot.
1. R | Photography
They started their journey back in 2008 and since then, they have continued to do amazing work. Their group of zestful and imaginative individuals uses their masterful skills by not only lighting up the beautiful details but also captures the emotions in them. It's headed by an IVS alumni, Rahat Rafiq, who has taught his lot well.
Here are their details regarding the female photographer including the packages:
Our list of female photographers are:
Eema Alvi (IVS Grad '12)
Quratulain Q Choudhry (IVS Grad '13)
Farwah Pannah (AIFD '17)
Mariam I Desai (Szabist '17)
The female team has two packages:
Event coverage by 1 female photographer is worth 30k
And
Event coverage by 1 female photographer and 1 male assistant photographer is worth 45k
2. Amina Zahid Photography
It's run by the credible woman herself, Amina Zahid, who is passionate about the pictures that capture memories in them. These moments might get over in a less than a split second but her pictures become an everlasting source of happiness and joy everytime the snaps are looked upon. This stunning sweetheart creates stories within her beautiful images.
She offers a full package for 40k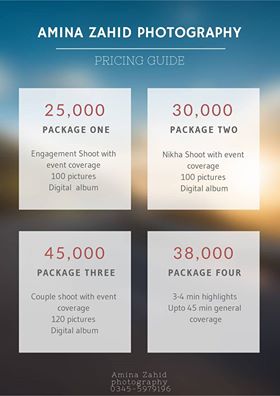 3. Nida Ahmed Photography
In 2011, Nida's thought bubble of taking wedding pictures turned to reality. Her inner self which was always up for pursuing photography, as a career, encouraged her the most in proving her utter talent in this field. However, she previously had a 5 years experience in commercial photography. The raw images taken by her gives it a touch of invisibility as if a person was present on the very day.
Her Packages: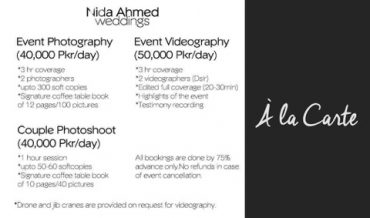 4. MV Photography:
MV is a brand that creates images which are no less than a gift with a light touch for gorgeous and calm imagery. They mainly work in still photography and cover events to take pictures which their client could always cherish.
Here are their details:
One day Photography charges 25k.
Including:
Bridal Shoot
Entire event coverage
One digital album of 10 sheets i-e around 70 to 80 pics
Unlimited soft copies
Single photographer
5. ZnF Photos
They deal with different types of camera work and offer photo coverage for vast events. Their images speak of how esteemed their work of light is, plus they keep things simple yet beautiful. ZNF intentionally add a ravishing touch to their pictures. They stand by their statement that every shoot that they do is approached with an open mind, whether it's a child's first birthday or a bride's special day.
Their  details:
For Nikkah, Mehndi, Barat, Valima with one female photographer costs PKR 10,000 (only soft copies)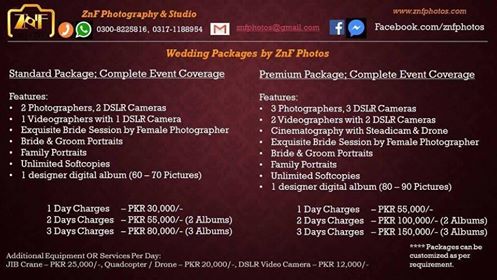 6. Sahrish Zakia photography -SeeZek:
The talented ladies Sahrish & Zakia are contemporary photographers based in Pakistan and UAE. Their unique technique and skills lead them to take high-quality pictures that differ from the normal ideas. Conveying moments through one image is what they solely believe in.
Their packages for wedding photography starts from PKR 16,000
7. Chamak & More:
She might have a different degree by profession but her love for photography kept her engaged in creating images with eternal touch in them. Her talent of adding shimmer to every event adds the natural affinity to the moments that make anyone say "lovely work"
Her Details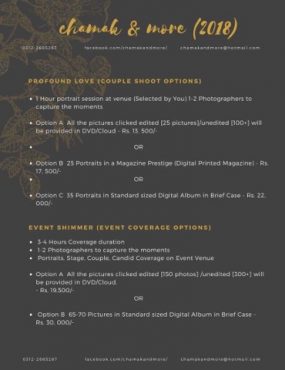 8. Nyala Arts
Her sheer skills have the talent to turn dreams into reality with her game of photography. Without any doubt, she is one of the best wedding photographers out there that create work which is both witty and capturing.
Single event: Edited photos soft copy (200 photos approx)= 50k
The single event including couple portrait photography= 75k.
Two events: Edited photos soft copy (200 photos each approx)= 85k
Two events including couple portrait photography for both= 95k
Three events: Edited photos soft copy (200 photos each approx)= 130k
Three events including couple portrait photography for all 3= 150k
Now, you have a list of people to look up to when having your fancy wedding. So, hurry up and contact them to make your booking. If you liked this article then, like, share and comment down below to give us your feedback.