Two of the five suspects who kidnapped Dua Mangi and Bisma Saleem in 2019 have been arrested. Additional Inspector-General of Police Ghulam Nabi Memon confirmed on Wednesday.
Memon said that a five-member kidnappers' gang led by an ousted police officer who was behind the abduction of Dua Mangi and Bisma. Taking action on the intelligence reports, the police conducted raids in different areas of the country and arrested the two suspects, he added.
Out of five, only two of them had been arrested so far and weapons recovered as well.
The arrested suspects were identified as Waseem and Muzaffar. The additional IG said that the suspects will be produced before the court on Thursday. He maintained that an ousted police officer, Agha Manzoor, was their gang leader. A woman was also part of the abductors' gang. Memon said that the gang took the kidnapping idea from movies.
He further stated that they had used a rented apartment in Clifton to keep the two girls in captivity, while using modern technology to keep their identities hidden. The culprits have confessed to the crime during interrogation. They are also involved in other criminal activities.
Referring to the two young women who were kidnapped last year, the police chief mentioned that both would be provided complete security.
Dua Mangi abduction
On November 30, Dua Mangi was taking a walk with her friend, Haris when 4 to 5 armed men kidnapped her. When her friend Haris showed resistance, they shot him and sped off with Dua.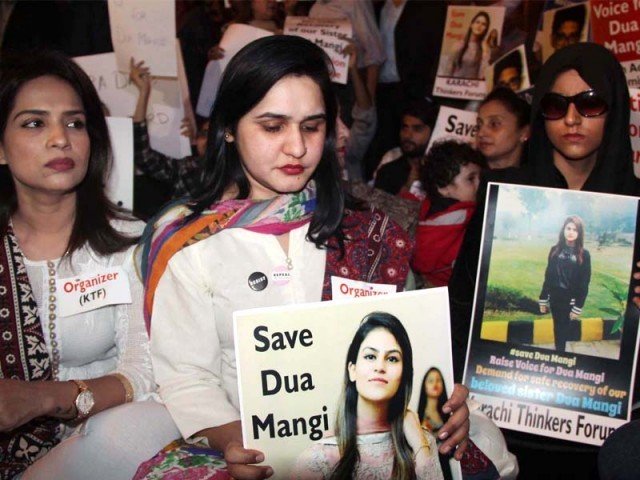 Dua later told the investigators that they kept her blindfolded during the entire episode. She was in the kidnappers' custody, besides keeping her hands and feet chained. The only time when her eyes were left briefly uncovered was when she was given food.  They also rarely talked to her. She said they even kept her ears plugged with earphones to prevent her from listening to and identifying their voices.
Dua's family had paid Rs1.5 million to Rs2 million ransom amount for her release. The Police claimed that during the investigations the family did not cooperate with them. They directly negotiated with the criminals on their own without involving the law enforcement agencies.
Moreover, Dua recently revealed everything about her kidnapping in a long Facebook post. She also addressed controversies surrounding her abduction.
Bisma Saleem kidnapping
However, 20-year-old Bisma Saleem, who is a blogger and a makeup artist was returning after Sehri when four armed men kidnapped her. They were seen coming out of a vehicle in the CCTV footage. Out of the four abductors, one of them grabs her and tortures her.
Karachi police launched crackdown operations in the search for Bisma. She later returned back home safely.