Calling humans as free spirits is an utter lie nowadays. As our beloved society might pose to truly believe in that statement, but in reality, they try to fit everyone in their cage of thoughts. Even people are now being judged on their religion. Recently, Zara Noor Abbas uploaded a picture of herself praying at a church and the comments that she received were terrible.
AT  ST. ANTHONY CHURCH IN TURKEY
The fashion designer cum actress, Zara Noor Abbas has been receiving much love for her cute couple plus traveling the world and capturing the beautiful moments. But this time, tables have turned and all the love turned sour for her. Well, she might not know but Religionism (religious discrimination) is a very common term nowadays that pretty much explains the society's mentality of how low can they get to judge someone.
DID NO ONE SEE THIS?
WHY DON'T PEOPLE TALK ABOUT THIS?
There's a huge list of celebrities that we watch on the big screen who are Muslims and do not do Muslim acts but that is never an issue for us. However, if she chooses to pray at a church it was all a haram act, some even called her "adopted" in the comment section. Who knows, Allah might have answered her prayers while you were still pointing fingers at others and getting more sins for yourself. Think about your grave and not hers.
SHE MIGHT HAVE PERFORMED NAMAZ AS WELL

OH! REALLY?

STOP QUESTIONING PEOPLE BECAUSE OF THEIR RELIGION

SHE KNOWS THIS TOO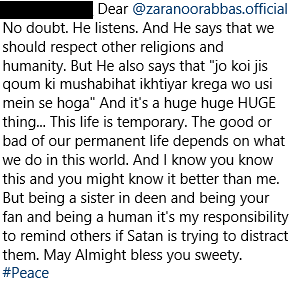 "ADOPTED"? SERIOUSLY?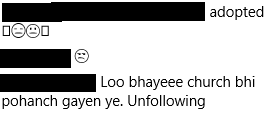 Religion, in general, has always been a person's personal choice. It's believed to be a sacred matter between God and His creatures but this thing doesn't seem to get into the people's minds who just go on and call anyone just anything while considering themselves as the most pious people alive. The parameter of schooling everyone should now change because every individual has a sane mind to choose what they want on their own. Zara Noor Abbas, after having enough of all this, replied to some of them that gave them the best shut up call.
EXACTLY!

SHE JUST SAID "PRAY"

Stop measuring everyone's "eman" on your scale of Islam. She also knows the same thing that you know about Islam. Furthermore, when our religion doesn't restrict anyone from visiting any place, then why are you putting sanctions on each personality? Our religion provides ease to each Muslim yet you are portraying it as a religion of restriction with your actions. Think before you say because if you think she is going to be questioned for this deed then you might also be in trouble for answering what you wrote about her. If you liked this article then like, share and comment down below to give us your feedback.