Almost every Pakistani girl who grows up watching all the fat weddings, dreams of the same wedding. In Pakistan, we have a culture of having lavish weddings. And by that, it means having all the events and "rams". Having some pre-pre-pre shadi events and then post-post shadi events. Also, how can we forget honeymoon? and after the honeymoon, there are some tons of "Dawatein". If you are a Pakistani, you must have attended any such wedding where you spent thousands of rupees on just clothing for someone else's wedding. No? Don't lie!
Well, talking of shadian we have a very famous wedding going on currently. Aiman and Muneeb's! You can't miss this wedding at any cost. It's everywhere. Instagram, Facebook, and Twitter and people are just having wedding inspo.
This is what Muneeb posted on his Instagram after their nikkah. Offical begum, aee hayye!
-That Caption 😍❤🔥 Hayeee 😍😍🔥🔥 !#AiNeeb #AimanKhan #MuneebButt pic.twitter.com/8VaxoXzGDQ

— 🔥 (@AsmaaaSays) November 21, 2018
But after their series of wedding events people are now bashing them! Like they had a family trip before the wedding then a trip to Dubai. After which they had a low-key dholki at their house and then bridal shower. It was followed by Aiman and Minal's birthday bash and then they had Mayoon separately of Aiman and Muneeb and Finally Nikkah. But after their nikkah, last night's mehndi event was making people uncomfortable.
Here's why!
People think that Aimeeb is doing a major fazul kharchi!
If fuzool kharchi had a face #Aineeb pic.twitter.com/80trCMTbxZ

— Mahum Masood 🇵🇰 (@Momo_Masood) November 28, 2018
Oops!
#Aineeb Future Plans!
Antenatal tests Ceremony
Blood tests during pregnancy Ceremony
Ultrasound scan Ceremony
Prenatal screening Ceremony
Neural tube defects Ceremony

— Saboor Alii (@sabooralii) November 28, 2018
Umm… true friendship?
Yahan ek shaadi key function main janey par doston ko maut parti hai aur wahan #Aineeb key dost unkey 50 hazar functions attend kar chukey hain. #SaachiYaari

— Bushra Joyo-Gandhi (@filmyjoyo) November 28, 2018
Maybe a little more?!
9 events yar. Matlb had hogai hai#Aineeb

— S. (@SaimaKhan___) November 28, 2018
And why is that even a problem? His wedding his choice!
WHY THE HELL IS HE DRESSED UP LIKE A WOMAN? I don't watch dramas so don't know about who these actors are but saw someone drooling over this on my Instagram and I just couldn't take it anymore #aineeb https://t.co/dVEx4J10qe pic.twitter.com/FQSUjMGiyn

— Nabeha Latif (@Nabehal) November 28, 2018
*Facepalm*
Aiman ki dholaki
Aiman ki Birthday bash party
Nikah
Muneeb ki maiyon.
Aiman ki mayion.
Filmy theme pre marriage party.
Mehndi and so on…
..
.
.
Bahi itna paisa hai tu dam fund me de do. 🙈🙉🙊.#Aineeb

— ع ر و ج (@butter_scotch10) November 28, 2018
Thora ziada nae hogaya?
Year 2018#Aineeb Mayun

Year 2030#Aineeb Pre Mehndi Party

Year 2050#Aineeb Mehndi

Year 2070#Aineeb Barat

Year 2090#Aineeb Pre reception party

Year 3000#Aineeb reception

— Zoobia (@CosmicWonderrr) November 25, 2018
After some major bashing of people all over the internet! Here's what Muneeb has to say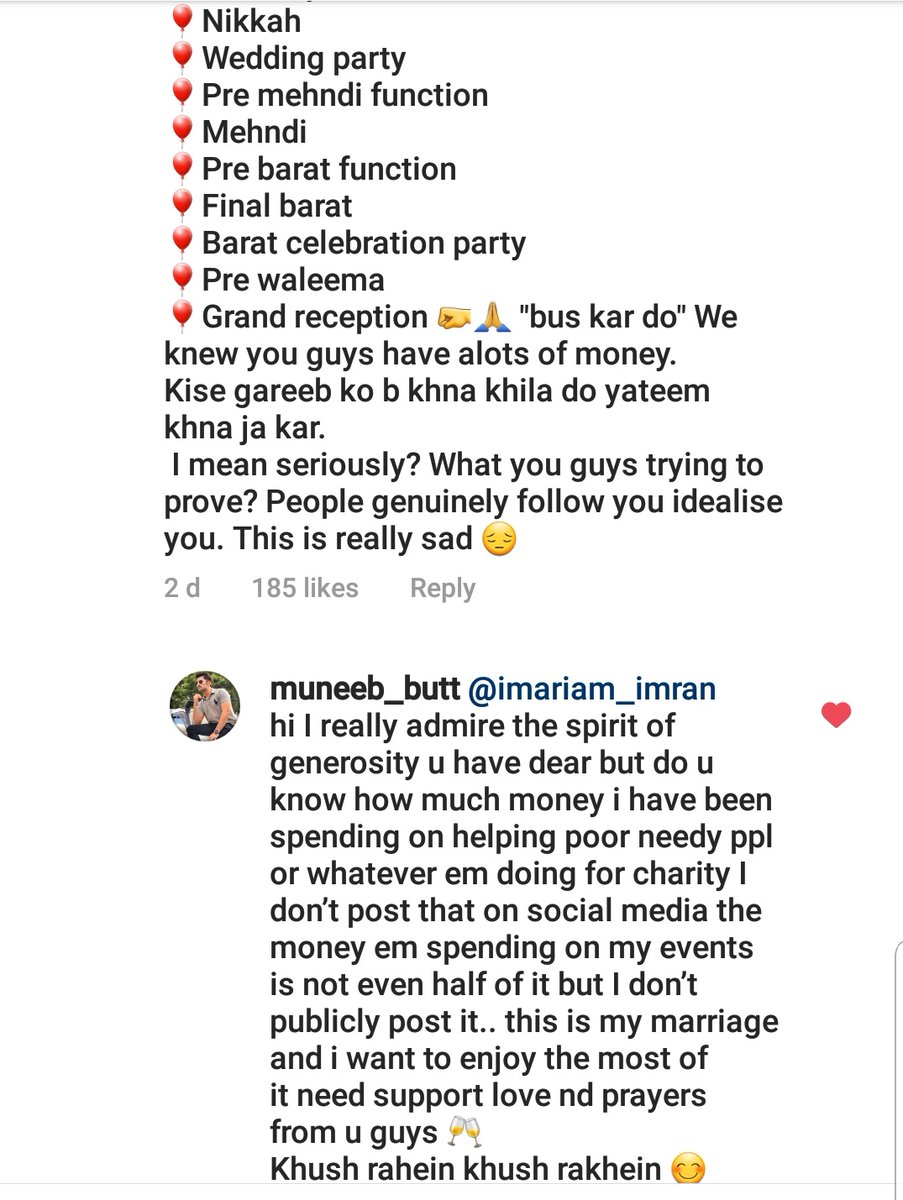 Well, he has a very valid point to say. He does not have to lavishily flaunt the money he spends on all the social work he does. He has been working on social causes, and if he is spending on his OWN wedding that shouldn't bother people. Live and let live. Learn to be happy in other's happiness. Look at them how happy they both look together!