Yashma Gill celebrated for her exceptional acting in Pakistani dramas, recently drew public attention due to a dance video circulating on social media. The video, shot in the UK, captures Yashma dancing to a Bollywood song, dressed in what some fans considered a bold outfit. The actress, known for her roles in "Pyar ke Sadqay" and "Tere Ishq Ke Naam," has been a beloved figure in the entertainment industry.
Yet, this recent video has created a buzz, with fans expressing disappointment over her choice of attire and dance moves. Concerns have been raised about the changing standards in the showbiz industry and the responsibility of celebrities, particularly those in the public eye, to maintain grace and decorum. Some comments suggest a reflection on the ongoing situation in Palestine, advising celebrities to adopt a more reserved approach.
Also Read: Yashma Gill Spills Bitter Truth About Society Stereotypes
Yashma Gill, a talented actress admired for her acting skills and beauty, recently celebrated her birthday with a star-studded bash, receiving praise from fans. The dance video, however, has sparked a debate about the balance between personal expression and public expectations in the world of showbiz.
Watch the controversial dance video here and share your thoughts.
In addition to the dance video controversy, Yashma shared glimpses of her UK trip, including moments with her girl gang, featuring Hania Aamir, Komal Meer, Amar Khan, and Mansha Pasha. The girls enjoyed various activities, creating memorable moments during their trip.
Check out the fun activities and bonding moments with the girls below.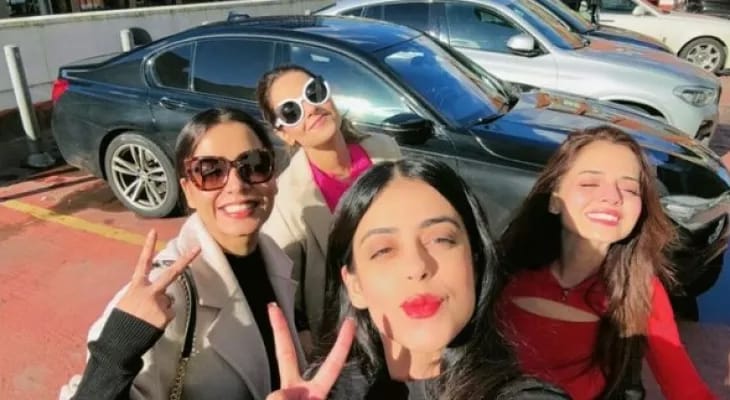 How do you think celebrities should balance their expression with public and societal expectations? Let's discuss.