It is indeed surprising to see how many girls nowadays are building up their courage to speak about their harassment cases. But on the other hand, it is also sad to see it happening way too often either in public or private. However, the way these girls are taking their matters to social media is amazing and how (in most cases) it exposes the harasser, is now a way of reaching out to the public and letting them be aware of such incidents.
Another incident took place recently where a girl was harassed in an elevator in public, in Karachi that too by an old man.
She shared her story on Facebook and here's what she had to say:
"Today in the dolmen executive tower elevator where Karachi's top notch offices are located like Daraaz, Engro, etc I was harassed by an old man in the elevator. It wasn't empty. My female colleagues were standing next to me while he squeezed my ass from behind and I told them, no one did anything, no one reacted and I myself was so overwhelmed at what just had happened that I was in utter shock. The man got out and walked away. It's so fucking unfortunate that there are such mentally sick men working in one of the prestigious work places of Karachi. Koi chota office hota where mostly men work toh samajh bhi aata but this is literally in fucking dolmen mall's corporate sector! You don't expect this to happen here. No one even encouraged me to complain and I regret the fact that I let him walk away, I let him squeeze my ass and didn't scream or make a scene. I was too scared of what people might think, but I shouldn't have been. Everything happened so quickly, I'm writing this post for every other girl who God forbids gets harassed and stays quiet about it. We SHOULD NOT be embarrassed. It's not our fault! It's the fucking Harasser's fault! Girls speak up and don't ever let some asshole walk away after harassing you!!
(AND FOR ALL THOSE WHO THINK I'M AN ATTENTION SEEKER, FUCK YOU AND YOUR SICK MENTALITY. ISSUES LIKE THESE NEED TO BE SPOKEN ABOUT!)
Also, I'm working in an Islamic bank so I was fully covered, wearing shalwar kameez and a dupatta before you think oh her dressing was the sort that probably hinted that she asks for it".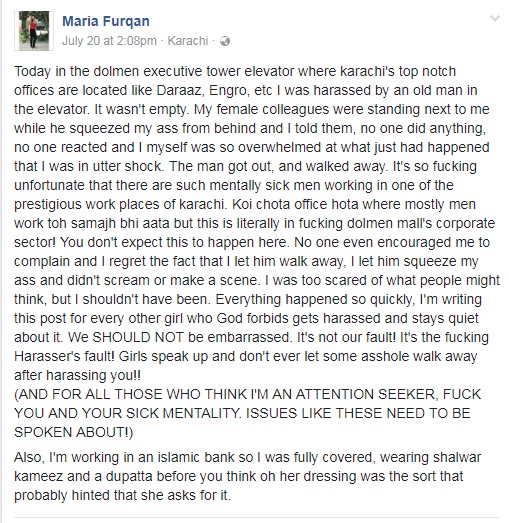 It is indeed disappointing to see where a girl has to clarify herself in the end. Guess, Maria didn't have a choice but to clarify herself as well because instead of looking at the whole situation, people tend to ignore and overlook the situation and blame the girl for it.
What are your thoughts on this? Comment below.